New kind of rare meteor shower hits Earth (VIDEO)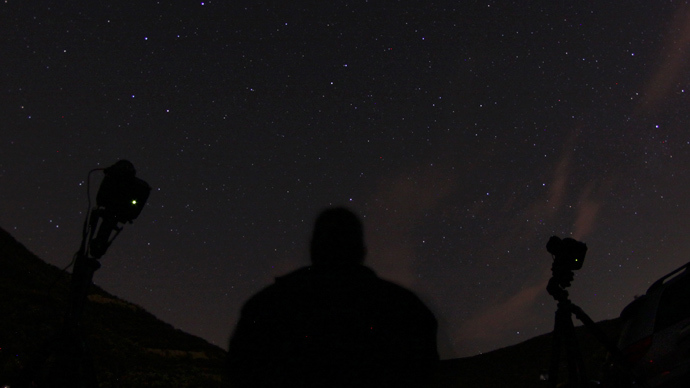 A rare Camelopardalid meteor shower lit up the skies early Saturday, after experts had struggled with the enigma of predicting how the meteor storm - the first of its kind - would present itself.
The meteor shower reached its peak when the Earth passed through debris consisting of up to 1,000 pieces of a comet it shed in the 1800s falling all around, every hour, at speeds of 12 miles per second (19.3kps) left by the comet 209P/LINEAR.
The comet itself was discovered in 2004 and orbits the sun once every five years.
The never-before-seen May Camelopardalids was scheduled to peak at about 2am to 4am on Saturday, eastern US time, according to Bill Cooke of the Meteoroid Environmental Office at NASA's Marshall Space Flight Center.
The meteor shower's name comes from the corner of the sky where everyone focused on to view the shower's most prominent bits – the Giraffe constellation, right next to the North Star.
However, as the event unfolded, social media was filled with disappointing comments on Saturday morning as many stayed up to see the meteor shower with little luck.
Before the meteor shower, scientist had been predicting spectacular views, while also warning that due to its unknown nature, it could fizzle out.
Some of the best views were recorded in America's Indiana, Canada's Toronto and northern Canada, according to Space.com.
Astronomer Tony Phillips from the skywatching website Spaceweather.com said on Saturday that the shower peaked at between five and ten meteors per hour.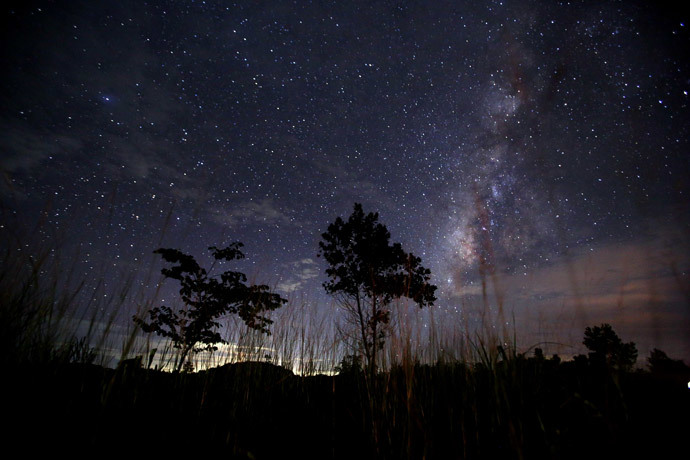 "Contrary to some forecasts, there was no intense outburst. Typical naked-eye meteor rates were no more than 5 or 10 per hour, a far cry from the 'meteor storm' some headlines anticipated," Philips said in his update.
"The parent comet, 209P/LINEAR, is faint and currently produces only a small amount of dust. Most forecasters acknowledged that there might be less dust in Earth's path than the models suggested."
Philips noted that the forecasters correctly predicted the timing of a never-before-seen meteor shower. "They got the timing almost perfectly correct; only the rates were off. Such a prediction would have been impossible only 20 years ago before the development of physics-based dust stream models. In this respect, the May Camelopardalids were a success if not a spectacle."
In response to Canadian Space Agency's tweet asking for observers' feedback after the shower: "boom or bust," following the meteor shower, many tweeted back with responses such as "no show" and "total bust." Another user Johnny Lai said: "Clear skies here in S Ontario [Canada]."
#Camelopardalids: boom or bust? Were you watching? Did the meteor shower deliver?

— CanadianSpaceAgency (@csa_asc) May 24, 2014
@csa_asc 1 meteor in two hours = bust.

— Steve Paluch (@BrewCityChaser) May 24, 2014
The meteor shower was first predicted 10 years ago by astronomer Peter Jenkins. He was skeptical about the intensity of the shower because when a comet leaves a trail of dust, you never know how much dust will be shed.
According to Jenkins, "We don't know what the comet was doing hundreds of years ago, and its behavior back then would have indicated to astronomers today what to expect with much bigger certainty. The guesswork is because this is the first time our planet is going to have an opportunity to pass through a dust cloud left by this comet."
The website Slooh.com recorded a video animation of Comet 209P/LINEAR with a remotely operated telescope in the Canary Islands.
Aside from other observatories featuring photos from the event, NASA's Marshall Space Flight Center streamed live views during the shower.
Cooke, said that it will be another ten years before the Camelopardalids comes around again, Space.com reported. He also added that by studying the shower astronomers can figure out how active Comet 209P/LINEAR was 200 years ago.
You can share this story on social media: