Japanese horror: Two pop idols attacked by saw-wielding man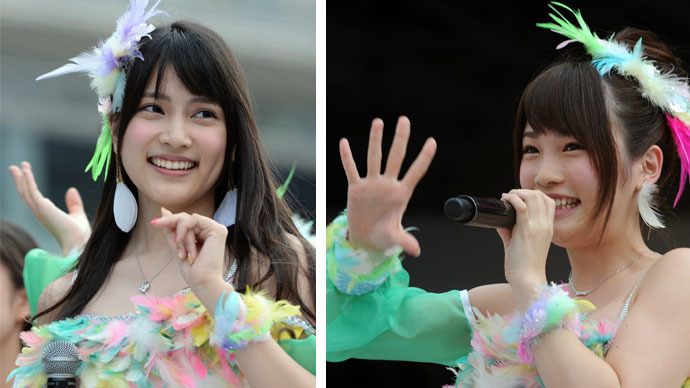 Two members of a Japanese idol group AKB48, consisting of 140 girls, have been hospitalized after a saw-wielding man suddenly appeared from a crowd of fans and attacked them at a 'handshake' event in Iwate Prefecture on Sunday, Japanese media reported.
The members of the pop group, Rina Kawaei 19, and Anna Iriyama 18, were brutally attacked at a fan event in Takizawa, the company behind Japan's idol group, AKS, said in a statement on its website.

The attacker, a 24 year old man, was waiting in line with hundreds of other fans, but suddenly he took out a 50-cm saw and started swinging it, Mainichi reported. The group's staff member who was also injured, was protecting the girls and tried to stop the attacker.
"I saw with my eyes, unblocked view, of my girls running out in panic, Kawaei on the floor screaming and crying, in blood. I might never forget this. Something is lost today, that bond between fans and these idols that you can meet, and it will never be the same again," a fan wrote on her Instagram account @ energywen.
So far the motive behind the attack is unclear.
"Why a man carrying "50cm Saw" could pass the security? Coz the checkpoint is set "before" handshake, not the time when fans enter the venue

— AKB48WrapUp (@AKB48WrapUp) May 25, 2014

The pop singers together with a member of their staff sustained multiple cut injuries. Both Kawaei and Iriyama suffered broken bones and lacerations to their right hands, AKB48 Manager Yuasa Hiroshi told Japanese media at a press-briefing after the incident. Additionally Iriyama suffered lacerations to the head, he said.
Yuasa: "Iriyama had lacerations on her head too and is currently in operation" RT @rur0: 見たことある人が出てきた pic.twitter.com/TwWhUuYOoX

— TKMN World (@tkmn_world) May 25, 2014

Iriyama Anna, Kawaei Rina & a male staff all successfully completed 3 hour-long emergency surgeries. Thank goodness. pic.twitter.com/Gd37fVuPQ3

— AKB48WrapUp (@AKB48WrapUp) May 25, 2014
Surgery which took 3hrs from 9pm was completed with no complications AKB48の川栄と入山の手術終了…午後9時から3時間 http://t.co/xevWP4bkTV

— TKMN World (@tkmn_world) May 25, 2014
Late night news on FujiTV. The 1st news they report... pic.twitter.com/hsOiNzkf2M

— TKMN World (@tkmn_world) May 25, 2014
Ono Erena (Former member of AKB48): "Things like this should never happen. Physical wounds may heal, but emotional wounds are forever.

— AKB48WrapUp (@AKB48WrapUp) May 25, 2014
The suspect, Satoru Umeta, unemployed, from Towada in neighboring Aomori, has been detained by police on suspicion of attempted murder.
The all-girl AKB48pop group is hugely popular in Japan. AKB48 consists of 140 members divided into several teams. In November 2010, Guinness World Records named AKB48 as the largest pop group. The group has been characterized by Japanese media as a social phenomenon. The pop idols have inspired sister groups abroad, including one in Jakarta called JKT48.
You can share this story on social media: