Forces loyal to rogue general storm Libya's parliament, demand suspension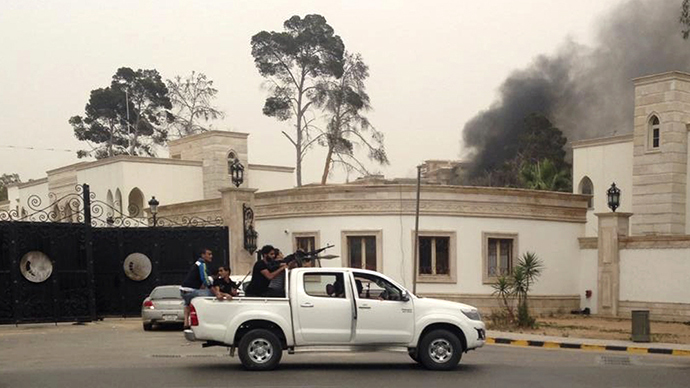 Armed gunmen loyal to rogue General Khalifa Haftar attacked Libya's parliament on Sunday, announcing its suspension. Forces loyal to Haftar claim to be purging the nation of Islamist militias while authorities accuse them of staging a coup.
Two people were killed and 55 others injured in the clashes in Tripoli's city center following the attack on parliament, Reuters quoted the country's justice minister, Saleh Mergani, as saying. The minister also called on all parties to put down their weapons and begin dialogue, according to his televised news conference.
Meanwhile, a spokesperson for the health ministry said up to 66 people were wounded in the fighting.
A Libyan colonel loyal to Haftar denied the move was a coup and stated that parliament has no legitimacy and should hand over power to the 60-member body that was recently elected to rewrite Libya's constitution.
"We, members of the army and revolutionaries (former rebels), announce the suspension of the General National Congress," Mokhtar Fernana said in a statement broadcast on two private TV channels, according to AFP.
The justice minister condemned the attack on parliament, as well as the claim that parliament's operations had been suspended. Marghani said that Libya "condemns expression of political opinion with armed force," adding that Haftar's Sunday attack was not connected to his Friday assaults in Benghazi.
Details of the Sunday attack are unclear, but Haftar's spokesman said the general's forces were responsible, adding that the assault was part of their 'Dignity of Libya' campaign to rid the country of all Islamist militants.
"These are members of the Libyan National Army," Mohamed al-Hejazi said. The Libyan National Army is the name of the irregular forces loyal to Haftar.
The Libyan National Army also rejected recently appointed Ahmed Maiteeq as the country's new prime minister on Sunday, according to AFP.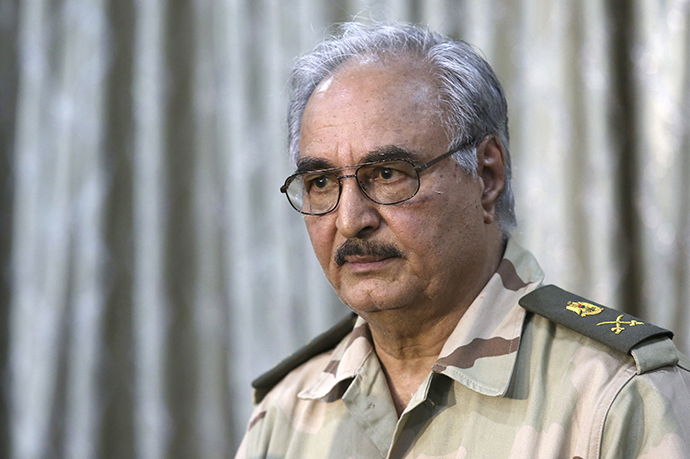 Meanwhile, unknown attackers fired Grad rockets at Benghazi's Benina Airport as clashes broke out in Libya's second largest city early Monday, Reuters reported, citing army and security sources. Fighting was also reported in two other areas in Benghazi.
At least 70 people have been killed and 141 injured over the weekend in Benghazi in clashes between Islamist militias and army troops loyal to Haftar. The country's authorities called the military offensive a "coup."
Military aircraft and helicopters fighting for General Khalifa Haftar were involved in the clashes and were spotted flying over Benghazi, Libyan security officials said, as quoted by AP.
Haftar was an army commander under Colonel Muammar Gaddafi until the 1980s, when he defected. Following Gaddafi's ouster, Haftar was appointed to rebuild the Libyan military, but was removed shortly after.
Following the ouster of Gaddafi in 2011, militias expanded in numbers, filling in the gap while Libya struggled with weak military and police forces.
Meanwhile, Libya's parliament remains split by rivalries, with little democratic reforms made since 2011. The country is now under the rule of its third prime minister since March, and a new constitution is still not ready.
On May 5, Libya's parliament confirmed Ahmed Maiteeq as the country's new prime minister. Deputy speaker Ezzedin al-Awami called the election invalid, but parliamentary president Nouri Abu Sahmain recognized the choice.
The new prime minister was elected after Abdullah al-Thinni resigned in April following an attack by gunmen on his family just one month into his term.
The prime minister before that, Ali Zeidan, escaped the country after being fired because he was unable to stop rebels from capturing oil fields.
You can share this story on social media: