Warships on parade at Baltic Fleet's 311th anniversary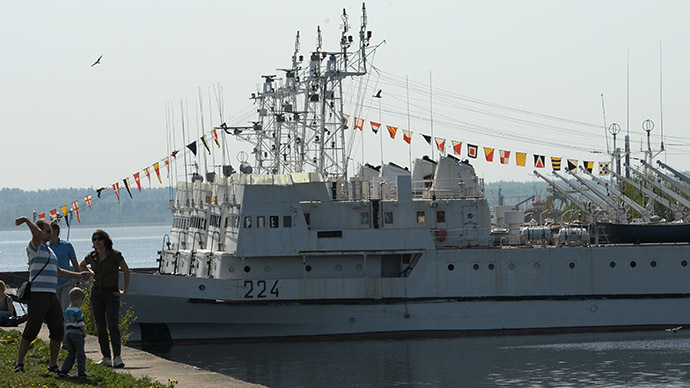 Russia's oldest naval force, the Baltic Fleet, has celebrated its 311th anniversary with a spectacular night parade of military ships at its base in the city of Kronshtadt, located in the country's northwest.
The festivities began Sunday morning, with the hoisting of the St. Andrew's naval flag and dressing flags on Baltic Fleet vessels.
Flowers were laid on the monument to Emperor Peter the Great, who founded the Baltic Fleet over three centuries ago.

In the evening, 11 military vessels from bases in Kronshtadt and Baltiysk took part in a parade at Kronshtadt Bay. All of the ships were illuminated to provide a picturesque show for spectators who arrived for the anniversary festivities.

In 2014, the Baltic Fleet's birthday coincided with the 310th anniversary of the foundation of Kronshtadt by Peter the Great, and the 95th anniversary of Leningrad Naval Base.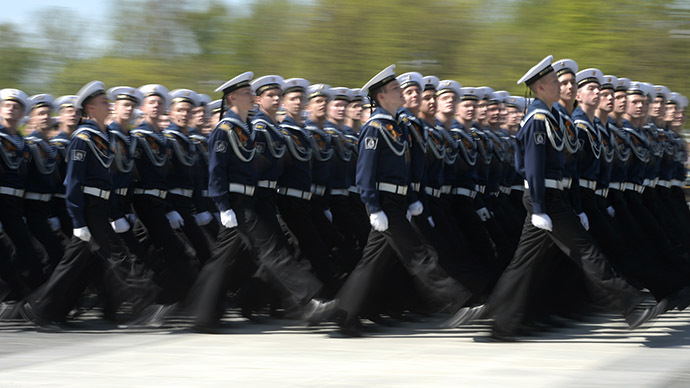 "Kronstadt is a sailor city, a worker city and a warrior city. Founded by Peter the Great as an outpost of Saint Petersburg, it defended our beloved hometown of Saint Petersburg. During its 310 years, the enemy never stepped foot on Kronshtadt soil. No enemy ship was ever able to travel pass Kronshtadt," St. Petersburg Governor Georgy Poltavcheko said, as quoted by Spbdnevnik website. The city is situated on the strategic Kotlin Island, some 30 kilometers west of Saint Petersburg.

Earlier on Sunday, over 500 servicemen from the fleet's ship-based and coastal units took part in a parade at a naval base in the city of Baltiysk.

The Baltic Fleet has always served as a firm Russian stronghold in the west of the country, ensuring the stability and interests of the state, Baltic Fleet Commander Viktor Kravchuk, who observed the parade, said.

Guests of the celebrations in Baltiysk also received a chance to come aboard some of the fleet's warships.

There were also exhibitions of arms and military hardware; S-300 air defense missile systems, new APC-82a armored personnel carriers, and torpedo launching and emergency rescue weaponry were displayed.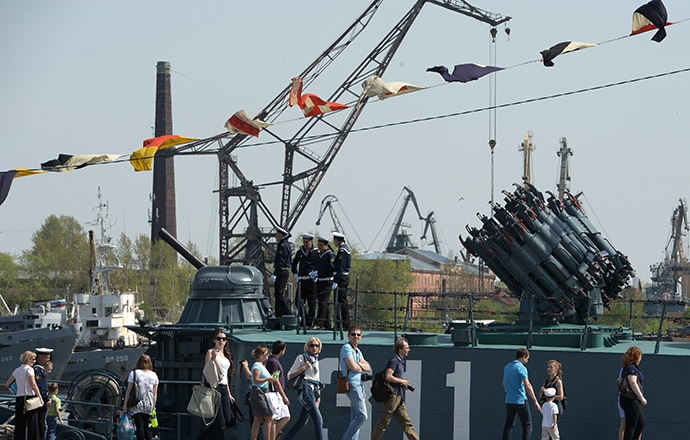 The birthday of the Russian Baltic Fleet is celebrated on May 18 – the day the naval force achieved its first victory over the Swedes in 1703. A flotilla of 30 boats, commanded by Emperor Peter the Great, seized two Swedish warships – Gedan and Astrild – in the estuary of the Neva River.

The battle saw all of its participants awarded with a medal which had "Impossible is possible" engraved on it.

The naval force contributed to lifting the blockade of Leningrad and the defeat of the Nazis on the Baltic during World War II.
Today, the Baltic Fleet has surface ships and submarine force, aviation, aerospace defense troops, and coastal units. It is replenished with the most advanced warships equipped with state-of-the-art weapons and technical equipment, including patrol warship Yaroslav Mudry and corvettes Steregushchy, Soobrazitelny, and Boikiy. Another corvette, Stoikiy, will be brought into service this summer.
You can share this story on social media: