Switzerland votes to reject world's highest minimum wage, projections say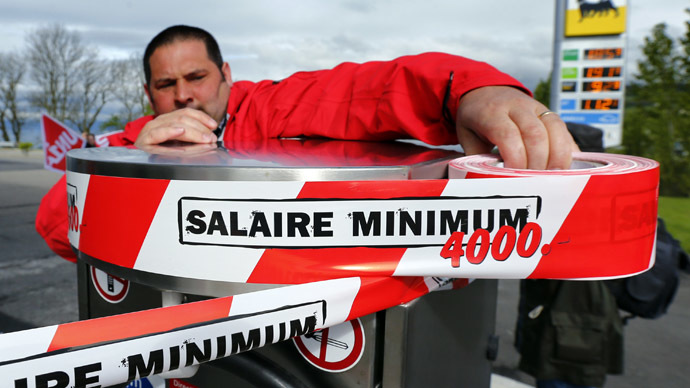 The Swiss have voted to reject an initiative to instate a minimum wage of $4,515 a month, according to initial referendum results. Advocates of the proposal argue it is a necessary measure, while opponents say it would seriously damage the Swiss economy.
About 77 percent of voters in the European nation dismissed the proposal to raise the hourly salary in Switzerland to around $25, which would be the highest in the world, a national projection for Swiss SRF television showed, reports Reuters.
"It is a clear vote by the people, a vote of trust in the economy," Hans-Ulrich Bigler, director of the Swiss trades association, told Swiss television.
Official results are expected to be announced later in the day.
The initiative was put forward by the Swiss Federation of Trade Unions (SGB) and backed by the Socialist and Green Parties, who believe it is essential to guarantee quality of life in Europe's most expensive nation. They argued that the rising cost of accommodation and health insurance meant action must be taken.
The measure would have affected around 300,000 people – around 10 percent of the population – many of whom are in agricultural or service work.
Government ministers fought against the measure, however, and insisted that it would damage the economy, running small companies out of business and making it harder for young people to find employment.
"A minimum wage won't stop poverty," Economic Minister Johann Schneider-Ammann told The Christian Science Monitor. "This system would be counterproductive."
Currently the average salary in Switzerland is 29,000 euro a year (around $40,000) and over half the Swiss population earn over 5,000 euro ($6,800) per month.
This is the third referendum the Swiss have held over the last 18 months over issues of pay, highlighting the growing concern for the wealth divide in the country. Previously in 2013, the Swiss voted on a bill that would allow them a say in determining the bonuses of top executives. However, they did not approve a later proposal that set out to cap the pay of CEOs at 12 times the salary of the lowest paid employee.

"The crusade against income inequality in Switzerland is something new and the result of excesses at the top of certain Swiss corporations," says Arturo Bris, finance professor at the IMD Business School in Lausanne, Switzerland, to The Christian Science Monitor. "Society's response was first to limit the salaries on the top and given that it failed, now the new initiative is targeting those in the lower pay scales."