Swiss unveil new solar plane for non-stop global flight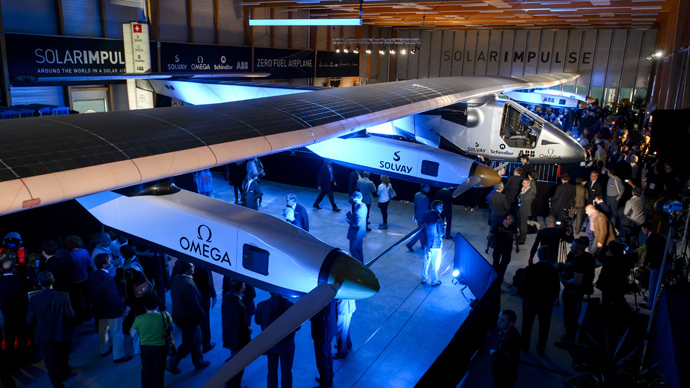 A Swiss team unveiled a new version of their unique solar aircraft Wednesday and is planning to complete their first round-the-world solar flight next year.
Solar Impulse 2 is the successor to Solar Impulse, which completed a trip across the US last year.
The new plane is bigger, than its predecessor and has a wingspan of 72 meters which is the same as the Superjumbo Airbus A380, but at just 2,300 kilos it's less than 1 percent the weight of the super jumbo.
The solar plane is built from cutting edge carbon layers that weigh less than 25 grams per square meter, about one third the weight of paper.
But whereas the first plane was a prototype the new one will be able to fly for at least 120 hours non-stop around the world. The plan is to take off after March 1 2015 from somewhere in the Gulf, which has ideal weather conditions and then head eastwards to make use of trade winds.
"We will need to take at least five days and nights to fly from China to the US and from the US back to Europe," pilot Andre Borschberg told a 500-strong audience of officials, sponsors and diplomats at Switzerland's Payerne airbase.
Borchberg said the plane's designers had to balance the fact that more reliable technology is heavier, but that more weight means less performance.
The aim of the project is to push the limits of research into solar powered flight. Borschberg and his co-pilot Picсard founded the project themselves over a decade ago, but initially couldn't find anyone to take them seriously.
"Each time I look at this airplane, I have a memory of my childhood coming back and I am sure you have the same memory: it's the Walt Disney animation cartoon Dumbo," Picсard told the crowd.
"If you say you want to fly around the world in a solar airplane, everyone thinks you're crazy," continued Picard, who was the first person to circumnavigate the globe in a hot air balloon in 1999.
But Picсard noted that "technology doesn't come out of the blue" and there will be important spin offs from their project into other sectors such as in the automobile industry and bio-science and chemicals.
The first Solar impulse managed a 26-hour flight and proved it was able to stock up on enough solar energy during the day to keep flying at night.
You can share this story on social media: