'No to the Nazi coup d'etat in Ukraine!' Rome protesters rally against fascism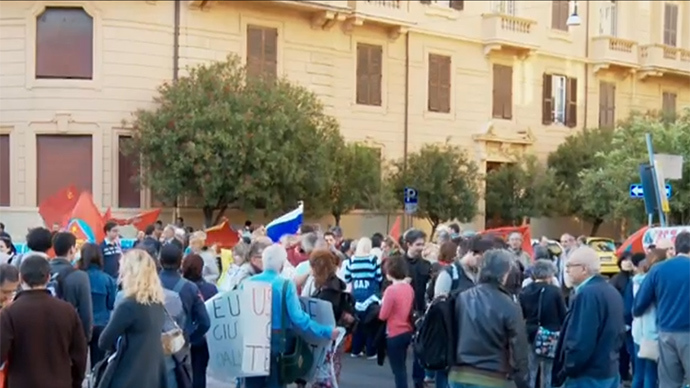 A few hundred protesters gathered outside the Ukrainian embassy in Rome on Saturday to protest against the rise of fascism in Ukraine and Europe. The event was organized by well-known journalist Julietto Kieza.
Kieza told Ruptly that he maintains that the "so-called revolution in Euromaidan has been paid straightly by the United States" and that for the first time since World War II, "Nazism reappears in the center of Europe with the aid of the United States."
Demonstrators came out to express a similar view. Protesters held up signs depicting Ukraine's former Prime Minister Yulia Tymoshenko as Hitler, and telling NATO to "go away."
One of the banners said: "No to the Nazi coup d'etat in Ukraine" in Italian.
Massive protests that began last year in Kiev eventually led to the ouster of President Viktor Yanukovich in February. Yanukovich left Ukraine's capital amid the worst surge of violence in the country's post-Soviet history, which left dozens of people dead and hundreds injured. The pro-Maidan opposition immediately capitalized on his absence from the city, dominating the parliament which then voted to strip the president of his powers and announced early elections.
Following the events, far-right forces such as the Svoboda (Freedom) party – Ukraine's nationalist party – entered the political arena and are now part of Ukraine's parliament.
"Only now I perceive that Europe is beginning to understand the danger they also face, because there is no solution for the crisis in Ukraine in the direction the United States has created. Now Europe has to pay," Kieza said.
You can share this story on social media: