Oil railway looks to reopen after massive Quebec explosion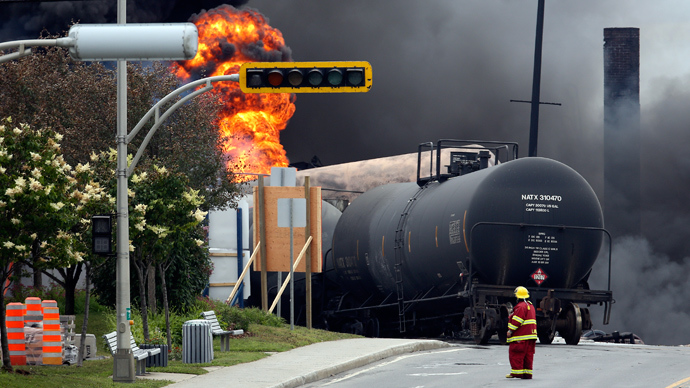 Oil executives who own the assets to the railroad responsible for the tragic train derailment and explosions that killed 47 people in Quebec last year hope to begin oil shipments through the region once safety updates are complete, they announced Friday.
John Giles, president and CEO of the Central Maine and Quebec Railway, told the Associated Press that the company plans to spend US$10 million on railroad improvements in Lac Megantic, Quebec once an agreement is in place with local officials. The deal, which could be completed within 10 days, would permit the transportation of non-hazardous goods in the area where the explosion took place.
"In the interest of safety, and I think being sensitive toward a social contract with Lac Megantic, we have chosen not to handle crude oil and dangerous goods through the city until we've got the railroad infrastructure improved and made more reliable," Giles said on Friday.
The Lac-Megantic derailment occurred on July 6, 2013 when a railroad employee left the 74-car freight train containing Bakken crude oil unattended. At least 60 tank cars derailed and multiple cars exploded, killing 47 people and incinerating much of the small town.
Lawmakers on both sides of the border immediately called for strict environmental standards and tighter oversight on hazardous transport. Three workers were charged with criminal negligence in Canada this week, serving as further evidence that the fallout is still ongoing.
Canadian Prime Minister Stephen Harper, perhaps because of the importance of oil shipping to the Canadian economy, has called on the town and the railroad to come together for a final plan on how to reopen the route.
"Any plan the company has should take into account the tragedy the people of Lac Megantic have gone through and should be done in collaboration with the administration of the city," Carl Valee, a spokesman for the prime minister, told AP.
Giles maintained that the company will not push to transport crude oil across the region until the community is assured that safety is not a concern.
"I want to get the railroad in position that by January 2016 that I can at least begin to compete for potential crude business moving east-west," he said. "The railway is important to the community, people, jobs and commerce. We believe and we've proven…that we can handle every type of commodity safely and efficiently."