Reporter walks into tripwire flare while shooting for RT near Ukraine's Kramatorsk (VIDEO)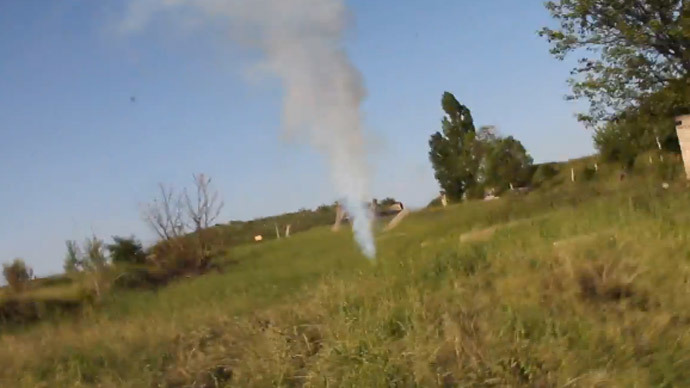 RT's freelance reporter, Graham Phillips, claimed to have been shot at by Ukrainian soldiers as he approached them to engage in dialogue near the town of Kramatorsk. However, the video he was shooting at the time reveals he triggered a tripwire flare.
That video up in a minute. I was wearing a 'Press' vest, tried to engage in dialogue, Ukrainian soldier shot at me from distance, Kramatorsk

— GrahamWPhillips (@GrahamWP_UK) May 16, 2014
As seen in the footage below, Graham Phillips is walking across a field. As he gets closer to the Ukrainian soldiers and greets them in Russian, also warning he is "press," the trip wire goes off.
In his further tweets Graham said the shooting still took place, though it was not captured by the camera.
The journalist's previous record of reporting for RT has already backfired on him. Two weeks ago Ukrainian radicals put a bounty out on Phillips. The Right Sector reportedly offered $10,000 for the capture of "a Russian spy."
Yesterday, RT's Ruptly video journalists also came under fire from two APCs as their car was targeted near the city of Kramatorsk. The journalists were en route to the town of Dmitrovka, some 30 kilometers from Slavyansk.