Donetsk self-defense forces give Kiev troops 24 hours to withdraw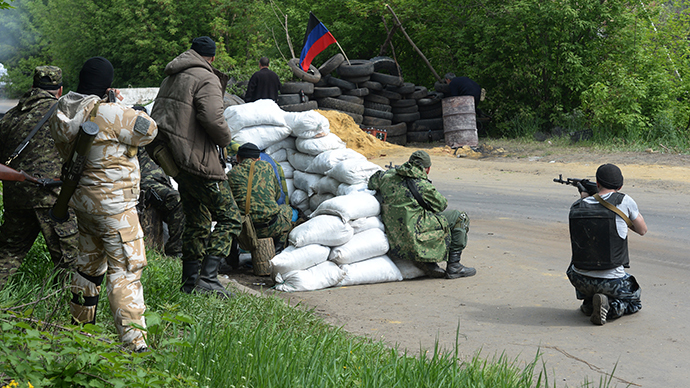 Donetsk self-defense forces set an ultimatum for the Kiev military, warning that if troops do not withdraw from block posts in the Donetsk region within 24 hours, they will be taken by force, RIA Novosti reported.
The pro-autonomy militia of Donbass region in eastern Ukraine made the statement on Wednesday.
"If the armored vehicles are not pulled back, the roadblocks of the so-called legitimate authorities are not removed, I will have enough power and means – the commander supported me today – to destroy and burn everything. Reconnaissance and sabotage groups are ready to move and some are steady," deputy commander of the pro-autonomy militia of Donbass, Sergey Zdrilyuk, told RIA Novosti.
"I give 24 hours for them to withdraw all troops, all forces," he added.
The statement follows referendums in Donetsk and Lugansk regions, which showed that the majority of voters support self-rule amid an intensified military operation by Kiev.
Almost 90 percent of voters in Donetsk region have endorsed political independence from Kiev, the head of the Central Election Commission of the self-proclaimed Donetsk People's Republic, Roman Lyagin, previously announced.
In Lugansk region, 96.2 percent of voters supported the region's self-rule, according to final figures announced by the local election commission.
After the referendum, the Donetsk People's Republic proclaimed itself a sovereign state and asked Moscow to consider its accession into Russia.
You can share this story on social media: