Dragging Ukraine into NATO negative for European security - Lavrov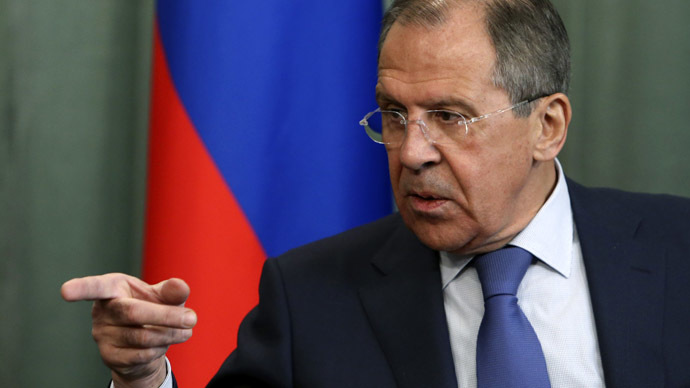 The seeds of the ongoing turmoil in Ukraine were sown back in April 2008, when NATO suggested that Ukraine and Georgia should move closer to the alliance, Russian Foreign Minister Sergey Lavrov said.
"The seeds for the current crisis were sown in 2008 in April during the NATO summit in Bucharest, when NATO leaders stated in a declaration that Georgia and Ukraine would be in NATO," the senior Russian diplomat told Bloomberg in an interview.
He said that the Georgian president at the time, Mikhail Saakasvhili, thought the statement gave him a license to resolve the problem of Georgia's breakaway region, South Ossetia, by force and he launched an invasion.
"He was certainly motivated by this NATO promise," Lavrov stressed.
Georgia or Ukraine becoming part of NATO would be a critical threat to Russia's national security, Lavrov explained, and something that Russia would simply not accept.

"The attempts to draw Ukraine into NATO would be negative for the entire system of European security and we would be categorically against it," he said.
While Russia would not object to Ukraine joining the EU, provided that Ukrainians comprehend and accept fully the economic repercussions this would bring, changing Ukraine's neutral military status is out of the question for Moscow.
This is especially true considering NATO's record of breaking its promises not to advance its military assets towards Russian borders, Lavrov said.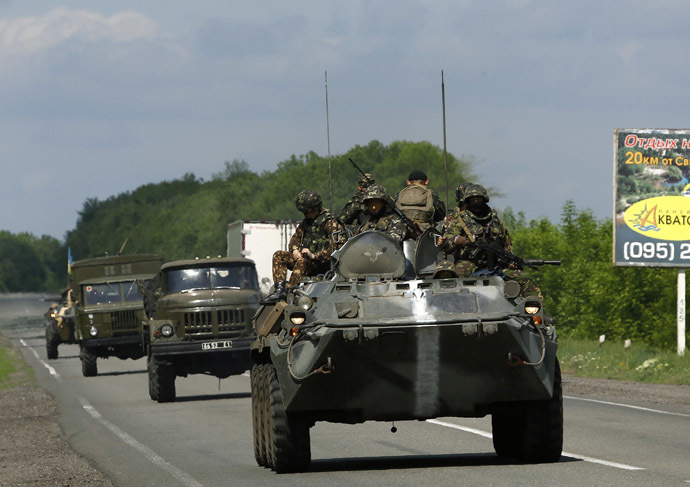 'Washington won't let Europe off the leash'
Russia sees that Washington is playing a large part in the Ukrainian conflict and is concerned with reports that the US impact of the events may be quite sinister.
There are reports of US private military companies operating in Ukraine and even of a senior member of the radical nationalist Right Sector movement visiting America for consultations with US State Department's top diplomat for Europe, Victoria Nuland. Lavrov said Moscow asked for official comments of such serious allegations from Washington, but none came so far.
Overall, the US is apparently content with its global position, the minister suggested.
"The real aim of the United States is not to let Europeans to go on their own, not to let NATO lose the purpose of its existence and to keep Europe on a short leash," Lavrov said.
Ukraine 'as close to civil war as it can get'
Russia sees the ongoing Ukrainian turmoil in gloom colors.
"Ukrainians are killing Ukrainians. I believe it is as close to a civil war as it can get," Lavrov explained, referring to Kiev's military operation being conducted in the Donetsk Region.
The violence and Kiev's refusal to stop it are against the Geneva agreement, which Ukraine signed together with Russia, the EU and US. It casts doubt over the legitimacy of the presidential election scheduled for May 25, the Russian minister believes.
"In the east of Ukraine there is a real war with heavy weapons shot. If this is something conducive to free and fair elections, then I don't understand something in freedom and fairness," he commented.
The use of force by Kiev or pro-Kiev militias against Ukrainians defying its rule is what Russia was concerned with in the first place. Fears of such violence prompted President Vladimir Putin to ask the Russian parliament for a mandate to use Russian troops to prevent possible bloodshed.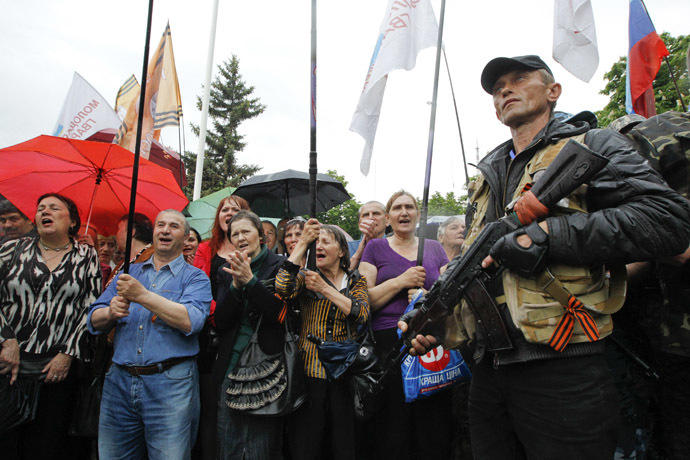 Russian troops assisted the Crimean self-defense force, when residents of the peninsula rebelled against Kiev and took up arms to defend themselves, Lavrov said. But Moscow hopes a similar move will not be necessary to protect other Ukrainian regions opposing the post-coup government.
"We don't have any intention to send any troops anywhere," the minister stressed.
Iran-style sanctions against Russia could damage US
Lavrov said that unilateral Western sanctions, if Washington and its allies chose to act against Russia the way they did with Iran, would hurt the Russian economy to a degree, but it would also hurt the West as well. And not only Europe, which has strong trade ties with Russia, but possibly the US as well.
"If the West for the sake of revenge is ready to sacrifice its reputation as a reliable partner for the entire world economy and for the entire world financial system, if the United States is prepared to sacrifice its reputation as the holder of the key reserve currency, then it's up to them to decide," he said.
This path would lead to other nations seeking ways to limit America's leverage on them, Lavrov believes.
"If the next morning somebody in Washington woke up in a bad mood and decided to start a coup elsewhere – not in Ukraine, but in Latin America, in their own backyard as they perceive it – those people must be prepared for this situation," he said.