'Peed in public, behave like occupiers': Latvian mayor complains about NATO sailors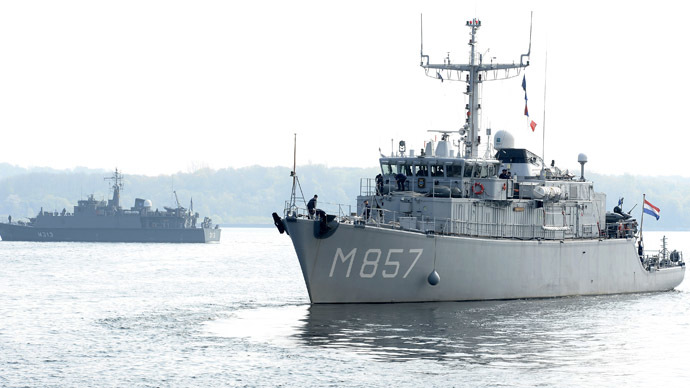 Crewmembers of NATO warships deployed to the Latvian port city of Ventspils are behaving like occupying forces, who don't consider local laws apply to them, the mayor of the city charged. This discredits the alliance in the eyes of Latvians, he added.
"NATO sailors in Ventspils were behaving like pigs, ignored Latvian laws and municipal rules," Aivars Lembergs told LETA news agency. "Drunk, they urinated in public, right on shop windows, vomited, drank in public, which is not allowed. They picked flowers from flowerbeds and gave them to prostitutes."
Lembergs, a vocal critic of Latvia's cooperation with NATO, added that the foreign military personnel "behaved like occupiers, who do not recognize Latvia's sovereignty."
The unflattering description comes as the mayor was commenting on an incident in Ventspils, in which several NATO sailors clashed with locals at a night club last weekend. One of the sailors, a 21-year-old Dutch national, sustained serious injuries and had to be taken to hospital with several broken face bones and a concussion.
The mayor alleged that the Latvian participants of the fight were simply protecting local women from harassment by the visitors. He added that since NATO warships arrived in Ventspils, the number of misdemeanor reports in the city has skyrocketed. It is twice as large now as it was during the resent Day of the City celebration, when some 13,000 people flocked into Ventspils.
The number of visiting NATO troops is about 90.
The mayor said he is going to send a letter of complaint about the situation to NATO Secretary-General Anders Fogh Rasmussen.
There are 26 military ships from NATO and the EU currently visiting Ventspils to take part in Open Spirit, an annual NATO naval exercise in the Baltic Sea.
Lembergs, who has led the Latvian port city since 1988, previously objected to the presence of NATO troops in Ventspils, comparing it to inviting Soviet troops into the independent Latvia in 1940.
The incident in Ventspils was one of several fights involving NATO troops in Latvia lately. In the capital, Riga, four American soldiers clashed with taxi drivers after returning on the morning of April 25 from a night party. The conflict was sparked by an argument over payment for the ride, according to Latvian media.
You can share this story on social media: