Odessa massacre 9 days on: Dozens still missing, residents commemorate the dead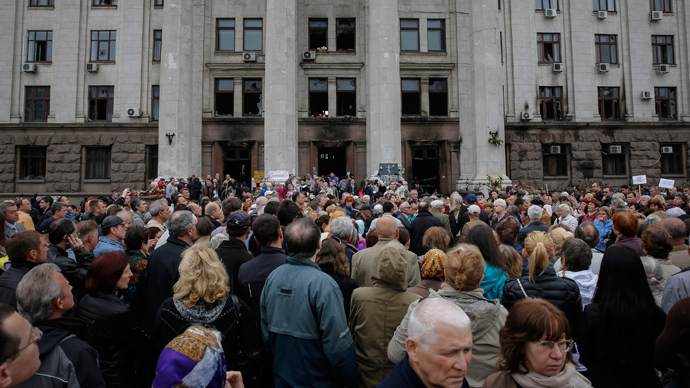 Residents of Odessa, Ukraine have gathered for a memorial service to commemorate the victims of the May 2 bloodshed who died in a fire in the city's House of Trade Unions which was set ablaze by pro-Kiev radicals.
Several hundred people turned up Saturday on Kulikovo Pole Square in central Odessa – the site of the tragedy that shocked the entire international community. The participants of the memorial service brought flowers, candles and lit icon-lamps.
The square used to house anti-Maidan encampment where protesters were collecting signatures in support of a referendum on the federalization of Ukraine and granting Russian status of a second official language.
On May 2, violent clashes erupted between rallies of anti-government protesters and that of radicals supporting the Maidan-imposed authorities in Kiev. The confrontation lead to the tragedy that left 46 people dead and over 200 injured as nationalists burnt the protesters camp and then set on fire the Trade Unions House with opposition activists trapped inside. According to a witness of the massacre, many of those who managed to escape the flames were then strangled or finished with bats by radicals.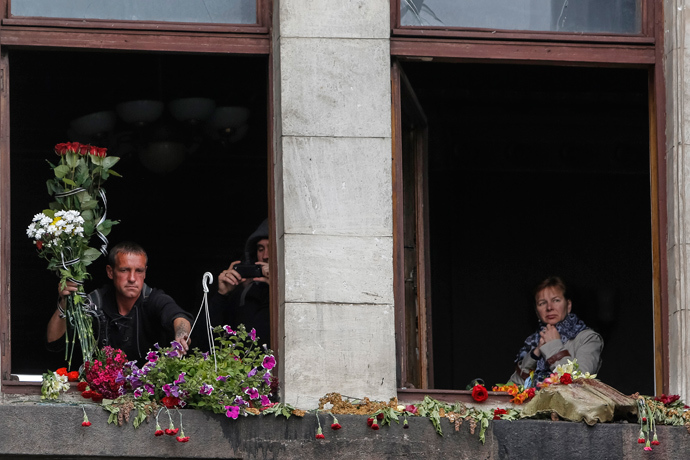 Forty two of those killed in the massacre have been identified by local and social media. Odessa news portal dumskaya.net published an unofficial list of the victims and the reasons of death: for a majority of victims it allegedly was "gas poisoning". However, several victims reportedly died of gunshots, while others burnt alive or crashed on the ground after jumping out of windows trying to escape the deadly flames. Their ages vary from about 20 to 70.
Up to 48 people according to various sources are still considered missing. Over 60 remain in hospitals, including 26 in a grave condition.
Families of the victims of the tragedy will receive 200,000 hryvnas (US$ 17,000) each, reported UNIAN agency citing the Odessa regional administration.
Activists participating in Saturday's mourning event vowed to set up a new protest camp on Kulikovo Pole Square to continue collecting signatures for a referendum, reported Itar-Tass.