London 2016? Olympic chiefs 'look to plan B' as Brazil's preparations slammed
Published time: 10 May, 2014 15:07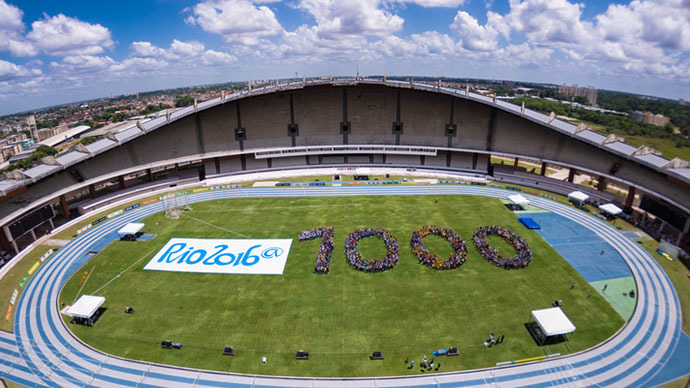 Olympic officials have secretly asked London if it could host the 2016 Summer Olympics in an emergency amid concern that Rio is so far behind on its preparations it may not be ready in time, British media claim.
The International Olympic Committee has been voicing growing concerns that preparations in Brazil, which is due to host the Games in 2016, are woefully behind schedule.
Less than two weeks ago, IOC vice president John Coates branded Rio's preparations as "the worst I've experienced."
Coates said that some venues had not even been started, other infrastructure was severely delayed and water quality was also a major concern.
"The IOC has formed a special task force to try to speed up preparations, but the situation is critical on the ground," he said, calling the intervention "unprecedented."
However, at that time there was no talk of finding another host city. But apparently the panic has reached a critical point.
"At a comparable planning stage in 2004 Athens had done 40 percent of preparations in infrastructure, stadiums and so on. London had done 60 percent. Brazil has done 10 percent – and they have just two years left. So the IOC is thinking, "What's our plan B?" an unnamed source told the London Evening Standard.
"Obviously, the answer would be to come back to London. It's very unlikely, but it would be the logical thing to do," the source added.
In 1908, London had to hold the Olympic Games in an emergency. The Games had been due to take place in Italy, but the eruption of Mount Vesuvius, near Naples, forced a switch of venue.
Will Gledinning, director of Allium, a firm of event consultants who worked on the London Organizing Committee for the 2012 Olympic and Paralympic Games said there was "more than enough time" for the UK capital to sort things out, if it was asked to do so.
"Yes of course it can be done. The expertise exists and regarding the facilities we are a couple of years away – more than enough time to get things ready. If I were the IOC, I would make sure I had a plan B and a plan C," he told the Evening Standard.
While some venues such as the Velodrome could be easily brought back into action, others have already been converted to public use and converting them back to competition-standard venues would cost billions and cause major disruption to the clubs already using them. The athletes' Olympic Village, which housed 17,000 competitors, has also been converted into privately owned flats.
Another possibility is that London could share the events with Glasgow, which is getting ready to host the Commonwealth games this July.
Still, a spokeswoman for the International Olympic Committee told The Guardian that the idea of the Rio games being moved to London was "a non-starter and unfeasible."