Nigeria govt knew about Boko Haram school raid in advance and did nothing – Amnesty Intl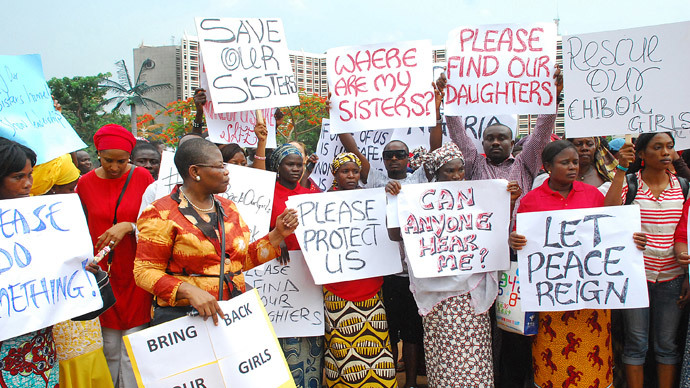 Nigeria's armed forces had more than four hours warning of the attack on the school by hardline Islamist group Boko Haram in which 270 girls were kidnapped, but failed to take any action, says Amnesty International.
The rights group Amnesty International has said that it has been told by several credible sources that the Nigerian military was given more than four hours warning of the raid by Boko Haram on the school but failed to do anything about it.
Boko Haram, a militant Islamist group, has said that it captured the girls in the April 14 raid because they should be married and not in school. In a video released earlier this week Abubakar Sekau, Boko Haram's leader, threatened to sell the students.
Fifty three of the girls managed to escape just after they were captured.
According to a number of sources interviewed by Amnesty local civilian patrols in Gagilam, a village neighboring Chibok where the girls were abducted, were the first to alert the authorities.The patrols are known as vigilantes and were set up by military and local authorities to counter Boko Haram.
A vigilante patrol in Gaiglam raised the alarm when a group of armed men entered the village on motorbikes and said they were on their way to Chibok. Locals immediately phoned a number of officials to warn them including the Borno State Governor and senior military commanders based in the regional capital Maiduguri.
"At around 10:00 PM on the 14 April, I called several security officers to inform them about earlier information I had received from the vigilantes in Gagilam village. They had told us that strange people had arrived in their village on motorbikes and they said they were heading to Chibok. I made several other calls including to Maiduguri. I was promised by the security people that reinforcements were on their way," one local official told Amnesty.
Another official said he was phoned up by herdsmen who said armed men had asked him where the Government Girls Secondary School was in Chibok.
At about 11:45 the convoy of Boko Harem fighters which by this time consisted of about 200 men on motorbikes and in trucks entered Chibok and a gunfight broke out with the small garrison of 17 police and soldiers who were based in the town.
Outnumbered and outgunned the small security force eventually fled the town in the small hours leaving the Boko Haram fighters free to proceed to the girl's secondary school where they abducted 270 school girls.
Two senior officers in the Nigerian military confirmed to Amnesty that they were aware of the attack even before the phone calls from local officials but were unable to mobilize reinforcements.
One officer told the rights group that his soldiers were fearful of engaging the militants who were often better equipped.
"There's a lot of frustration, exhaustion and fatigue among officers and [troops] based in the hotspots. Many soldiers are afraid to go to the battle fronts," he said.
Amnesty's requests for a reaction from military headquarters in Abuja, the capital of Nigeria, have not been answered.
"The fact that Nigerian security forces knew about Boko Haram's impending raid, but failed to take the immediate action needed to stop it, will only amplify the national and international outcry at this horrific crime," said Netsanet Belay, Amnesty International's Africa director.
Amnesty was also critical of efforts to try and secure the girls' release, which have been hampered by an atmosphere of confusion and suspicion.
"The climate of suspicion and lack of transparency about the rescue effort has been unhelpful – all authorities must work together to ensure the girls are brought home safely and more must be done to protect civilians in the future," said Belay.
Boko Haram, which in the Hausa Language means 'western education is forbidden', began their insurgency in Borno state in north east Nigeria in 2009. At least 1,200 people are estimated to have been killed in the violence so-far this year.
You can share this story on social media: