Armed group stages provocation at Ukraine-Russia border checkpoint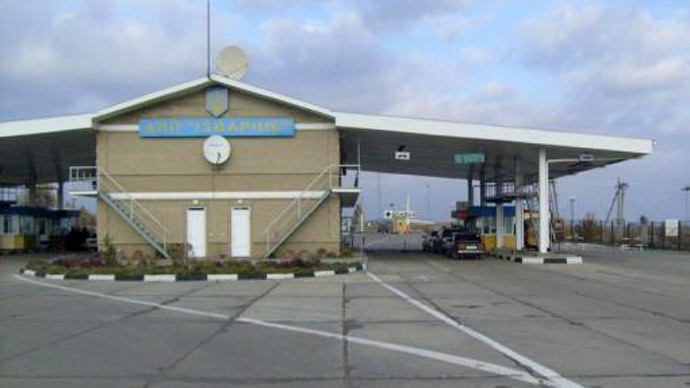 ​Several border guards at a crossing between Ukraine and Russia have been injured in an attack staged by a group of armed men in black uniforms, despite earlier warnings of possible provocations. The attackers set the checkpoint on fire before retreating.
It was a surprize that the attack on the checkpoint Izvarino on Russian-Ukrainian border did actually happen, despite earlier warnings of such provocations being planned, a source in the Russian power structures told RIA Novosti.
"Despite information which has appeared the day before of preparation of such a provocation, SBU [Security Service] of Ukraine together with Right Sector did carry it out after all, without even inventing anything new," the source said.
"It is not the first time that Ukrainian radicals used men in camouflaged black uniforms, without identification marks and with St. George's Ribbons," the source added implying that it is "no secret" for Ukrainians that men in black belong to ultra-nationalist groups armed and equipped by the Kiev authorities.
An armed provocation on Thursday was staged by people in black uniforms without any insignia but bearing St. George ribbons, a symbol of the pro-federalization resistance, the head of Russia's Federal Customs Service Andrey Belyaninov confirmed to RIA.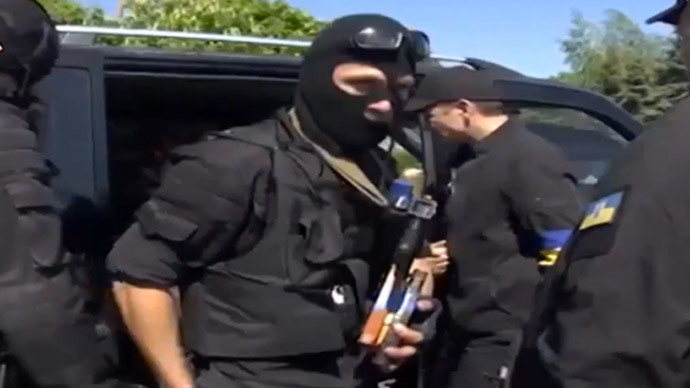 According to the State Border Guard Service of Ukraine, at around 18:00 local time, two minibuses carrying around 40 men drove towards the Izvarino crossing, Iterfax reports. As the buses were going through the registration process as if about to leave Ukraine, the armed men, wearing black camouflage and with St. George's ribbons got out of the bus, surrounding the Ukrainian guards at gun point.
The armed men demanded the border guard officers lay down weapons. The border troops however, refused to obey, and took up positions to defend the checkpoint. The disguised armed assailants threw several Molotov cocktails at the checkpoint before retreating and driving away back to the Ukrainian side. The fire at the crossing has destroyed one of the booths, but was soon extinguished. Ukrainian border guards suffered minor injuries.
On Wednesday, a source within the Ukrainian security services, warned RIA about the planned provocations by members of the Right Sector reportedly coordinated by Ukraine's Security Services. According to the source a special body guard unit of Dnepropetrovsk governor Igor Kolomoysky was sent from Kiev to Donetsk to help the Right Sector stage attacks on the border crossings disguised as the Russian military. Furthermore, the staged attacks were to be taped, as to provide false evidence of Russian involvement. The group of about 20 men reportedly transported a cargo of about 200 sets of Russian military uniforms as well as about 70 blank Russian military IDs, according to the source.
You can share this story on social media: