​Notorious radical preacher Abu Hamza secretly worked for British intelligence – lawyer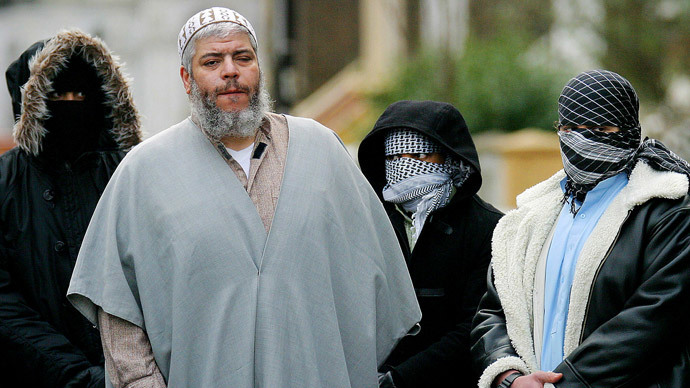 The notorious Islamic radical preacher Abu Hamza secretly worked for British intelligence, his lawyer told a US court during trial on multiple terrorism-related charges. Theories exist that in exchange MI5 had allowed him to preach his message.
The arguments presented by the defense are in stark contrast to the image of Hamza established over more than ten years. Taking the stand on Wednesday, the preacher flatly denied any association with Al Qaeda or other terror groups.
With a hook for a hand, and notorious for his hate-filled speeches outside London's Finsbury Park Mosque, Abu Hamza is intensely disliked by the US government. He stands accused of multiple counts of terrorism, including the plot to organize a Jihadi training camp in the state of Oregon and advocating violence in Afghanistan in 2001. He is further accused of 11 other counts in relation to the taking of 16 hostages in Yemen in 1998.
After spending in excess of £1 million of taxpayer money on trying Hamza in the UK for more than eight years, the British finally extradited him to the US in 2012 after he served six years back in the UK for inciting hatred and advocating murder. In America, he was to face much more serious charges of funneling money and recruits to Al Qaeda elements in Afghanistan, the plot to set up an extremist training camp in the US and involvement in a situation in Yemen that ended in hostages and three dead Britons.
However, all of this was not before he had confessed in 2006 that MI5 and Special Branch had regularly contacted him between 1997 and 2000, telling him that he could be of use to them for monitoring the mood among local Muslims and diffusing tensions whenever something threatened to turn into a tricky situation. He was allegedly told that he's fine spreading his message "as long as we don't see blood on the street." And he claims that only in 2000 was he given a warning to turn the hate-speech down a notch. But this was not substantiated by any evidence back then.
Fast-forward to 2014, and Hamza is being tried in a federal court just a few blocks away from the September 11 attacks in New York City – attacks which he once praised, just as he had praised the assumed mastermind, Osama bin Laden.
Now, Hamza is preparing to take the stand to plead "not guilty" to 11 counts of terrorism.
"Did you ever give material support for terrorism?" Joshua Dartel, who heads his defense, asked Hamza. "Never", came the reply. The preacher explained that, as a devout Muslim, he took his oath very seriously, and outlined the exact circumstances under which a practitioner was allowed to lie.
To make his case, Dartel presented past Scotland Yard reports and described Hamza as an "intermediary" between British intelligence and the Muslim public, wherein Hamza was to keep the peace, monitor for tensions, "cool hotheads" and overall be the MI5's eyes and ears in London's Muslim community.
The picture that Dartel now paints bears no resemblance to the image of the terrorist the lawyer alleges Hamza wanted to project. "He's going to testify that he took a certain position publicly for a certain reason, but at the same time his intention was to de-escalate, to avoid wider war and to keep the streets of London safe," Dartel told the Judge in the run-up to the day's proceedings.
A total of 50 pages of evidence were provided him by the UK. "They touch on virtually every conflict that we are talking about in this case – Algeria, Bosnia, Yemen, Afghanistan." Dartel went on to list the occasions the British agreed with Hamza on cooperation in figuring out "how to keep the [Muslim] community in equilibrium" after arrests were made in Britain in connection with the civil war in Algeria. He was "making proposals" to the MI5 on how to manage the community's reaction in the UK.
But the prosecution, with the judge's help, blocked Hamza from testifying about the details of his communications with MI5 that were not specifically related to the case at hand. And that meant that none of the documents presented by Dartel would play a role in the trial. His defense team, however, is expected to appeal the decision.
The psychological portrait now presented aims in a different direction. Hamza spoke affectionately about studying and becoming a civil engineer, how he "wanted to see the world" and how he "always looked forward to the Western life, American-style."
You can share this story on social media: