Calls in Europe for longer life for black boxes as MH370 search yields to no result
Published time: 6 May, 2014 18:36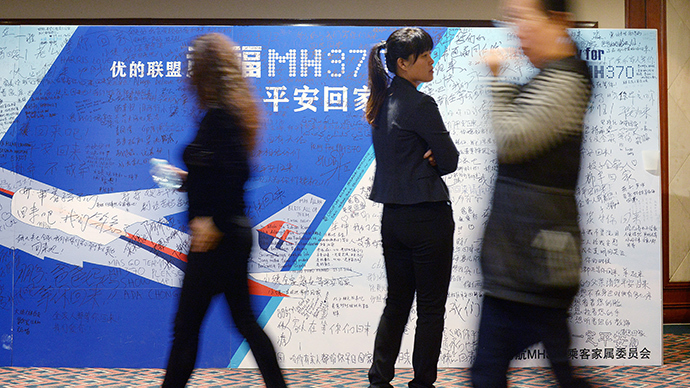 The European aviation safety watchdog has called for a longer "battery" life of flight recorders, or black boxes, and wider range of aircraft recording devices after nearly two months of fruitless hunt for Malaysia Airlines Flight 370.
The European Aviation Safety Agency (EASA) has proposed extending the transmission time of underwater locating devices (ULD) fitted on flight recorders from 30 days to 90 days.
"Mandate that the ULDs of crash-protected flight recorders required to be installed on commercial air transport airplanes have a transmission time of 90 days by 1 January 2018," the Germany-based watchdog said in its opinion that addressed safety issues.
All passenger aircraft have two flight recorders - one for voice and one for data. Each of them is equipped with a beacon that – once it touches the water – starts emitting signals. However, as the batteries die, those signals fail.
The tragedy of Malaysia Airlines Flight 370, which went missing with 239 people onboard, is now nearing two months, meaning the plane's black boxes battery power has expired.
As part of the measures, the regulator is also requiring that starting in 2019 airliners flying more than 180 nautical miles over water have an additional underwater locating device transmitting at a different frequency with greater detection range. In this case it will be easier to locate the recording devices under water, where lower frequencies travel further.
As an alternative, the aircraft can be equipped with other technology to determine the location of a crash site to within 6 nautical miles, the agency said.
EASA also wants cockpit voice recorders be upgraded to store 20 hours of conversation, rather than just two hours which is currently the case. This would help to easier understand plane accidents and prevent vital evidence being overwritten.
The missing MH370 could have flown for up to seven hours after it went missing, meaning that even if the cockpit recorder is found, its standard two-hour recording would not have conversations during the crucial stages of the flight.
"The proposed changes are expected to increase safety by facilitating the recovery of information by safety investigation authorities," EASA director Patrick Ky said in a statement on Tuesday. "The tragic flight of Malaysia Airlines MH370 demonstrates that safety can never be taken for granted."
Once adopted by the European Commission, the requirements will apply to all airplanes and helicopters registered in an EASA member state.
Meanwhile, experts from Australia, China and Malaysia have pledged to continue the search for the missing MH370 that vanished en route from Kuala Lumpur to Beijing on March 8. They are meeting in the Australian capital, Canberra, this week to discuss the next stage in the operation.
Search planes and vessels scoured more than 1.8 million square miles of ocean (4.6 million square kilometers). But despite the most intensive search, no traces have been found so far. This has become the largest multinational search operation in modern aviation history.
On Monday officials announced that investigators will review all of the information collected since the plane disappeared to make sure they have been searching in the right place.