France dishes out 3 mln euro to save 'Great Hamster of Alsace'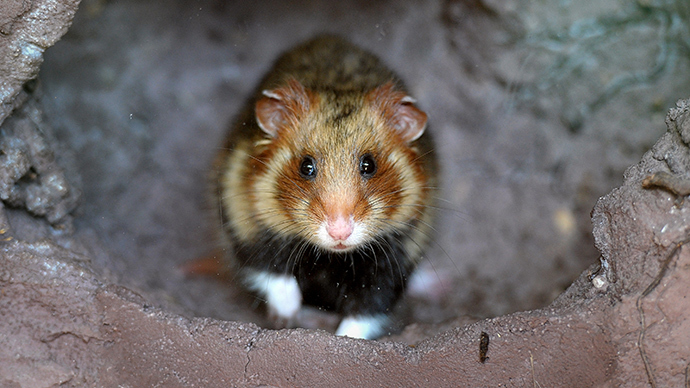 France is scrambling to save a rare species of hamster facing extinction, nearly two years after the Europe's top court came down on Paris for failing to protect the unique little furball.
Measuring in at just 10 inches, the "Great Hamster of Alsace," also known as the black-bellied hamster, is one of the most threatened mammals in Europe.
This week authorities in Alsace launched "Alister" – Alsace Life Hamster – a 3 million euro program which hopes to see the current population of between 500 and 1,000 to around 1,500, which is viewed as a viable number for the continuation of the species.
An action plan for the hamster was first instituted in 2007, but the European Court of Justice ruled in 2011 that France was still not doing enough to protect the vulnerable rodent. The court warned that France would be fined millions of euros unless efforts were made to boost the critter's numbers.
With a brown and white face, snow-white palls and a black belly, the Great Hamster live quietly in little burrows alongside the Rhine river in France's eastern border region of Alsace, where it hibernates six months out of the year.
The only wild hamster in Western Europe, the Great Hamster has seen its numbers dwindle to critical levels due to highway projects, suburban sprawl and industrial scale farming. Until the 1960s, it was considered a pest, where farmers routinely poisoned them or encouraged children to hunt them down. At one time their paws were prized by farmers, who made them into trinkets.
The hamster has been protected legally since 1993 but its numbers fell from 1167 in 2001 to as few as 161 in 2007, although they have since gone up slightly.
While locals call it a "corn piglet," alfalfa, clover and even wheat remain staples of the hamster's diet. The spread of maize as a commercially viable agricultural product has seen a reduction in the hamster's viable food supply.
Farmers have been encouraged to try planting a mix of maize and alfalfa, or leaving strips of plants in between each line of maize.
"The aim is to find innovative ... practices to preserve the animal without harming farmers' activities," AFP cites the regional council as saying in a statement.
France has previously given subsidies to farmers to grow alfalfa or wheat, though farmers have often resisted the government drive for crop substitution. Some locals have also resented government efforts to halt urbanization in a bid to preserve the animal's habitat, arguing such measures have cost the region jobs.