Released military observer: 'We were shot at by Ukrainian army'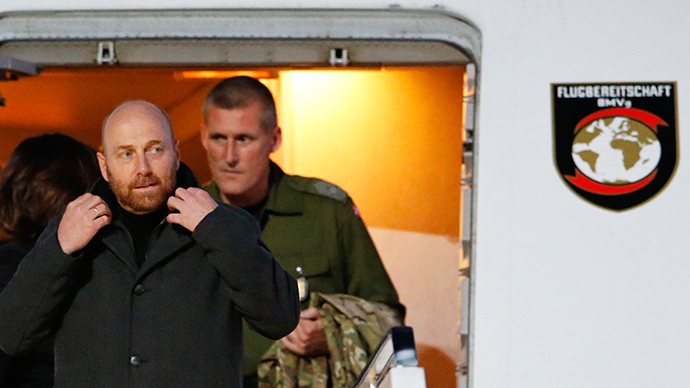 Forces loyal to Kiev opened fire on military observers from OSCE nations after anti-government activists in Slavyansk released them. The group was shot at on the road to Donetsk, Czech Lt. Col. Josef Přerovský said in an interview with a local newspaper.
"We exited Slavyansk and headed in the direction of Donetsk. Having passed the first line of Ukrainian units, consisting of armored personnel carriers, we moved on to Kramatorsk, arriving at another Ukrainian military checkpoint, which refused to grant us passage. They opened fire on us. At that point things really took a turn for the worse," Přerovský, who was among the observers, Itar-Tass reported the Pravo newspaper as saying.
"We somehow managed to reach Kiev by phone, but this changed nothing. In the end we had to bypass Kramatorsk and travel on virgin soil, which is very dangerous. What was most upsetting was getting pulled over by the Ukrainian army, which was supposed to be assisting us," Přerovský said.
Přerovský said the police in Donetsk were a big help – the same people who supported the anti-Kiev elements in Slavyansk. The Czech official recounted how the path for the bus was cleared with the help of a police car riding in front.
When asked whether the supposed Russian military incursion was in fact taking place, Přerovský reported seeing "no Russian regular military units" in Slavyansk, adding that the group "was not subjected to physical violence or denied food."
However, he did say that it was a psychologically strenuous experience, as fighting was taking place just outside the entire time.
The 12 military observers were captured by eastern Ukraine's self-defense forces on April 25 and spent just over a week in captivity as they were accused of espionage. Earlier one of the detained – a Swedish officer suffering from diabetes – was released.
Later arriving to Donetsk, Col. Igor Turansky, who heads the Ukrainian military mission to the OSCE also added that the observers were treated fine and there were no complaints. Explaining their predicament, he'd said they were captured by the self-defense forces because of a coordination mix-up. He noted that the observers "did not coordinate their actions with the representatives of the locals."
Vladimir Lukin, Russian President Vladimir Putin's special representative to Ukraine, oversaw the release of the observers. Lukin stressed that the move by the self-defense forces wasn't a bargain. "It was a voluntary humanitarian act, and we're very grateful for it to those controlling the city," he said.