Newly appointed Odessa police chief vows to revise release of anti-Kiev activists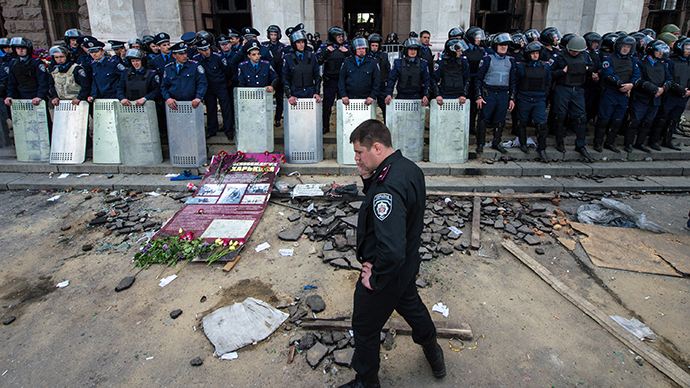 Addressing a pro-Kiev rally, Odessa's new head of police spoke against 'separatism' and vowed to revise the earlier release of pro-autonomy activists.
Ivan Katerinchuk was appointed following deadly clashes and a fire on Friday that killed dozens in the southeastern port city.
Local media reported that a few hundred people attended the rally near the Odessa interior ministry on Sunday. Some of them were heavily armed with wooden and metal bats, chains, shields, and helmets.
Katerinchuk addressed the crowd with "Glory to Ukraine!," to which they answered with the traditional "Glory to heroes!," RT's Irina Galushko reported from Odessa.
"We don't ban anybody from peacefully demonstrating and expressing their opinions. But we are against those who are promoting separatism and the splitting of Ukraine. I think that is where we are united," a YouTube video shows Katerinchuk saying in Ukrainian. "But that does not mean that we should break the law," he added.
When speaking about the 67 released anti-government activists, he said that all will be investigated and it will be determined if they broke any laws.
He called on the Right Sector to exercise restraint and select individuals who will represent the group in order to easily communicate with it about further actions from police.
new regional police chief: separatism is illegal, unlawful, so is its propaganda; #RightSector cheers #Odessa

— Irina Galushko (@IrinaGalushkoRT) May 4, 2014
The new police chief received his position on Sunday, following Friday's disastrous events in Odessa. After being appointed, he announced that the priority of police would be to avoid additional clashes.
The police chief was born in western Ukraine. He has worked with the police since 1983 and resigned from the force in 2010 after holding various leadership roles.
His last position was as police chief in Ukraine's Chernigovskaya region, located in the northwest of the country.
A YouTube video from the Sunday rally shows one of the pro-Kiev leaders shouting, "Odessa must be cleared of Colorado beetles (a derogatory term for pro-autonomy activists) before May 8."
The same video footage showed that one of the attendees of the rally was the same radical that was shooting at the windows of Odessa's burning House of Trade Unions.
On Friday, dozens of people died in flames in Odessa, when radicals set ablaze the local House of Trade Unions with anti-government protesters trapped inside. The city is now in mourning for those who died, many of whom suffocated from smoke or jumped out of windows.
Around 100 people rallied in central Odessa on Sunday after blocking the local Interior Ministry department in a protest against the detention of anti-government activists following the tragic events on May 2. The protesters have been trying to prevent police from sending the detained, which reportedly include dozens of survivors of the Trade Unions House fire, to the regional court building.
On Sunday, Ukraine's acting Prime Minister Arseny Yatsenyuk blamed Russia for being behind the Odessa violence. "What happened in Odessa was part of a plan by the Russian Federation to destroy Ukraine and its statehood," Yatsenyuk said. "Russia sent people here to create chaos."
The accusations were not backed up by any evidence. In fact, US ambassador to Ukraine Geoffrey Pyatt said on Sunday that his country does not have evidence linking Russia to the tragic events in Odessa.
"We don't have evidence of the Russian role in what – the tragedy that transpired on Friday. Prime Minister Yatsenyuk used some very strong words today, talking about the role that he believes Russia played," Pyatt said in a telephone interview with CNN. "And this is something that we hope an impartial and systematic investigation will be able to get to the bottom of very quickly."
However, the diplomat added that "we certainly believe that Russia is exercising influence across eastern Ukraine."
You can share this story on social media: