32 Muslim villagers killed in ethnic violence in north-east India
Published time: 3 May, 2014 19:45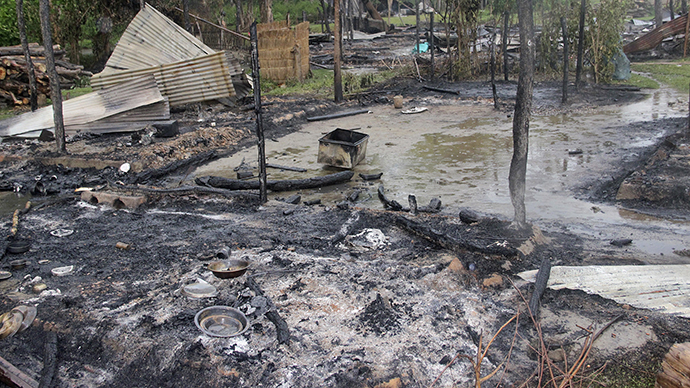 Separatist rebels have killed 32 villagers and burned down houses in one of the worst outbreaks of ethnic violence to take place in the northeast Indian state of Assam in two years.
Police have arrested 22 people. The army has been called in to restore order, and imposed an indefinite curfew after the 32 victims were killed in a raid on their homes.
The deaths have been blamed on separatist rebels from the Bodo ethnic group, who have long accused Muslim residents of entering India illegally from Bangladesh.
The attacks came in three waves, according to police, AP reported. The first took place in Baksa district late on Thursday night, when eight rebels opened fire on a group of villagers sitting in a courtyard, killing three people and wounding two others.
The second attack happened between 12:30 a.m. and 1:00 a.m. local time on Friday in Kokrajahar district, when four hooded and armed men broke down the doors of two homes and opened fire, killing a further eight people.
The third and most recent attack occurred on Friday evening when militants entered a village in Baksa district, setting about 40 Muslim homes alight before opening fire.
Assam's director general of police, RM Singh, said that 12 bodies were initially recovered from the third attack – all of them shot to death. The regional police inspector general, LR Bishnoi, said another nine bodies were recovered on Saturday.
Bishnoi added that so far, 22 people have been arrested who allegedly burned down homes or provided shelter to the insurgents.
He said the rebels behind the attacks came from a faction of the National Democratic Front of Bodoland (NDFB). The Bodos are indigenous group in Assam, who make up 10 percent of the state's 33 million people, and have been fighting for a separate homeland for decades.
But in an email sent to reporters on Saturday, the rebels denied any involvement and blamed the killings on the government.
Local television showed hundreds of Muslim villagers fleeing their homes, with many of them wheeling their belongings on pushcarts. Around 44 people have left so far, most of them heading to Dubri district, which borders Bangladesh.
Siddique Ahmed, a state minister for border areas, said that his government and the ruling Congress Party failed to protect the victims.
"Even two-year-old children who could barely walk have been shot dead. I have never witnessed such scenes in my life," he told reporters.
Mohammed Sheikh Ali, 28, said his mother, wife, and daughter were killed in the attack.
"I will curse myself forever because I failed to save them. I am left alone in this world…I want justice," he told AP by telephone from the hospital where he was waiting for postmortem examinations to be carried out on his family.
Muslim migrants are regularly attacked by separatists in the Bodo heartland. In 1993, 100 migrants were killed by the Bodos in a raid on a makeshift camp for displaced Muslims.