Michelangelo's statue of David in danger of collapsing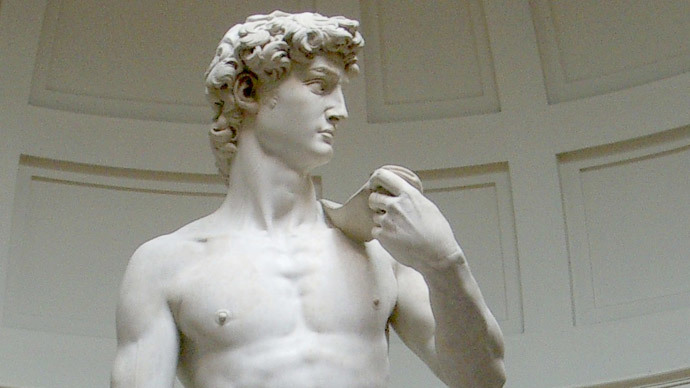 Michaelangelo's 'David' statue is in danger of collapsing due to its weak ankles and the structure's great weight, scientists have confirmed following new tests. The famous sculpture of the boy warrior is housed in Florence's Galleria dell'Accademia.
The statue of David, the biblical hero who killed Goliath with just one stone, dates back to the 1500s and is the one of the world's most famous works of art. It has come to represent the Renaissance ideal of the male physique. Michelangelo di Lodovico Buonarroti Simoni spent three years making it.
Now scientists from the National Research Council and Florence University have confirmed that the statue has weakened over the centuries.
Micro-fractures are visible on the left ankle and the carved tree stump, which threaten the whole stability of the structure. The cracks have been blamed on the poor quality of the marble used and because the 5.5 ton statue leaned at an angle for more than a century.
Vibrations from the millions of tourists who flock to Florence to see it every year, as well as motortraffic, are also thought to have damaged the structure. The famous statue also stood out in the elements in the Piazza della Signoria for more than 350 years before it was moved in 1873 and placed in the Galleria dell'Accademia.
Although a copy of the statue has been made, which now stands outside Florence's town hall (Palazzo Vecchio), there have been calls for years to move the original to a specially built earthquake proof museum away from traffic and roadworks in the city center.
There were also concerns reported in 2011 that the construction of a tunnel for a high-speed train link – which passes just 600 meters from the statue – would cause further damage.
The statue was commissioned by the city's rulers in the 1500s as a symbol of the Florentine Republic's commercial and military strength.