Over 200 injured as two trains collide in Seoul subway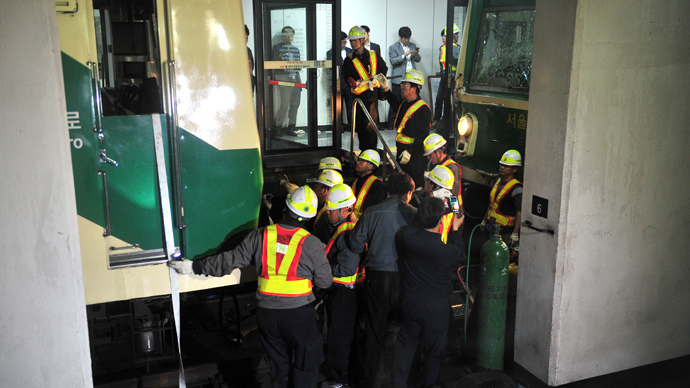 Over 200 people were injured as two trains collided in the subway of South Korea's capital. About 150 were reportedly hospitalized with mostly minor injuries, while around 1,000 commuters were safely evacuated.
The accident occurred on Line 2 of the subway in east Seoul at around 15:35 local time (06:35 GMT). One train ran into the back of another, which had stopped between stations due to a mechanical problem.
According to a preliminary investigation, the train's automatic distance control system may have malfunctioned, the Associated Press reported, citing officials.
The driver of the moving train said he applied the emergency brake after noticing a stop signal but wasn't able to halt in time, Seoul Metro official Jeong Su-young said.
"A proceed signal changed to a stop signal, so we used the emergency gear, but we could not attain the 200 meter emergency distance. This is why the train crashed. This is how we understand it. The exact cause will be announced after investigating further."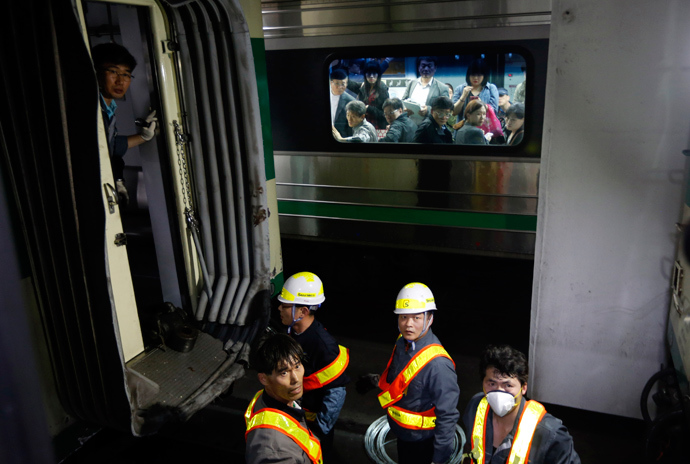 In total, 238 people sustained injures due to the incident at Sangwangsimni station, The Korea Herald reported, citing firefighters.
About 150 people remain hospitalized, according to AP.
The majority of those injured received bruises, scratches, and other minor injuries. However, one person is reportedly being treated for a brain hemorrhage and one of the train drivers has undergone surgery for a fractured shoulder.
You can see the situation of Sangwangsimni Station when #Seoul subway line 2 train collided. Via @circus99pic.twitter.com/RNcxgWQLMn

— Jaehwan Cho 조재환 (@hohocho) May 2, 2014
"I fell forwards maybe two or three meters," 26-year-old Lee Dong-hyeon, an office worker on the moving train, told Reuters. "It was like tripping over when running really fast."
Korean media reported that there were long delays in giving instructions to passengers about what to do following the incident.
The collision's impact derailed one subway car. Passengers had to walk through the tunnel to get back to the station, YTN television reported.
Many injuries were caused by passengers jumping from the subway cars onto the tracks, according to a government emergency official. An onboard announcement initially told commuters to stay inside, though most passengers ignored it and forced the doors open to escape, witnesses told Reuters.
The accident in the subway comes less than two weeks after a South Korean ferry capsized and sank, leaving more than 300 dead or still listed as missing.
This pic can easily explains how the situation was on-going when #Seoul Subway line 2 collided. Via @hsp88071pic.twitter.com/5x0i1hTscQ

— Jaehwan Cho 조재환 (@hohocho) May 2, 2014