Ukraine brings back conscription amid unrest in country's east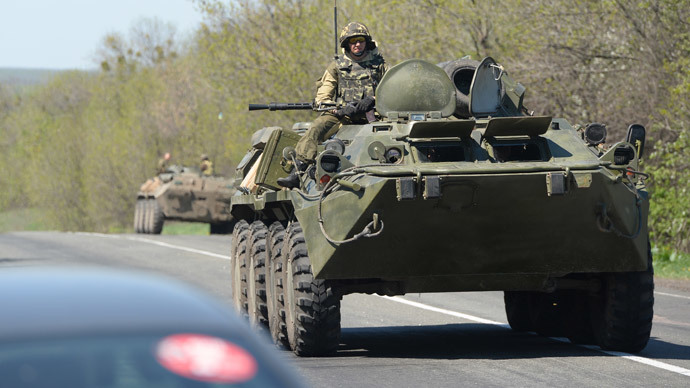 Ukraine's acting President Aleksandr Turchinov has announced he is reinstating a military draft to help deal with the "deteriorating" situation in the country's east and south.
The draft will call on all males between 18 and 25 years of age, who are not eligible for an exemption.
Turchinov's office said in a statement on Thursday that the decision was made "given the deteriorating situation in the east and the south...the rising force of armed pro-Russian units and the taking of public administration buildings...which threaten territorial integrity."
The military draft will be carried out in May-July, but no details were given as to where the new conscripts will be deployed.
Last year, Ukraine announced plans to stop the draft in 2014 and begin the transfer to a professional army. However, Turchinov said he decided to change the existing law due to "threats of encroachment on Ukraine's territorial integrity."
On Wednesday, Turchinov said the government in Kiev cannot control the situation in the east of the country and that Ukraine's army is on full alert due to the "threat of a Russian invasion."
"I am going back to the real threat that Russia would unleash a continental war against Ukraine. Our armed forces have been put on full alert," Turchinov told a council of Ukrainian regional heads in Kiev on Wednesday.
Meanwhile, May Day celebrations in Donetsk, eastern Ukraine turned violent as pro-autonomy activists seized the local prosecutor's office. Police responded with tear gas and stun grenades but later relinquished their weapons.
The storming of the Donetsk Region Prosecutor's Office began when several dozen shield-holding protesters pelted rocks and petrol bombs at the building while chanting, "Fascists!" as they tried to break in.
Twenty-six people sustained injuries, including gunshot wounds, as a result of the storm and clashes, RIA Novosti reported, citing Donetsk officials. Two of them were hospitalized. The Interior Ministry said that one National Guard soldier was wounded.
You can share this story on social media: