Ukrainian army 'on full alert', president admits east is beyond control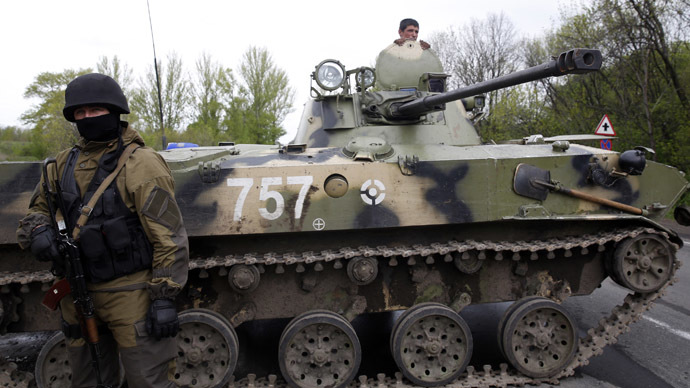 The Ukrainian army is on full alert due to the "threat of a Russian invasion," Ukraine's acting President Aleksandr Turchinov said after admitting that the government in Kiev cannot control the situation in the east of the country.
"I am going back to the real threat that Russia would unleash a continental war against Ukraine. Our armed forces have been put on full alert," Turchinov told Wednesday a council of heads of Ukrainian regions in Kiev, as news agencies report.
He called on the audience to speed up the creation of regional militias loyal to Kiev.

"We must have the capability to move those units fast to support other regions against such a threat," he stressed.
Turchinov admitted that Kiev simply cannot get the situation in the rebellious eastern regions under control and reiterated earlier accusations, saying some people in law enforcement "are cooperating with terrorist organizations," the name Kiev authorities use to refer to anti-government protesters who are seizing government buildings in eastern Ukraine.
"Our primary task is to prevent the spread of the terrorist threat to other regions of Ukraine," he said.
In contradiction to the previous moves of the government, which included raids on protester checkpoints and other demonstrations of force, Turchinov said "as we know from the experience of Maidan, the use of force is inefficient. That's the situation we faced in the eastern regions."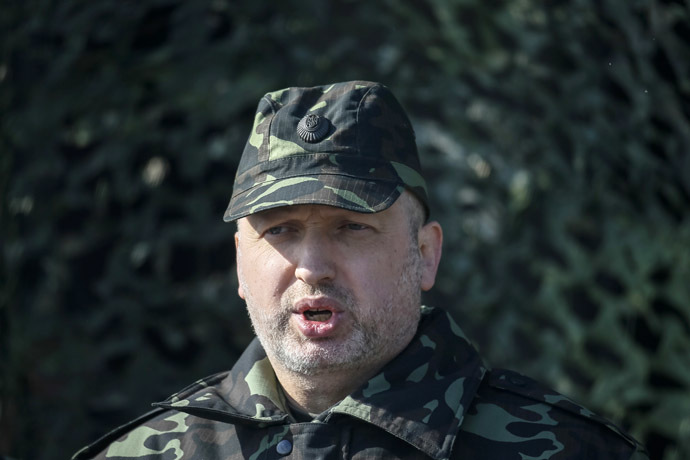 Earlier on Tuesday, the acting president said in a televised address that the situation in the east of the country "demonstrated inaction, helplessness and sometimes treason" and pledged to sack many officers in eastern regions of Ukraine.
Turchinov was elected a new speaker of the parliament and appointed by the MPs to act as the country's acting president after the previous leader, Viktor Yanukovich, was ousted following violent street protests in February.

The new authorities in Kiev are failing to deal with a wave of protests against them centered in the Donetsk Region of eastern Ukraine.
Despite announcing an "anti-terrorist operation" and amassing a large number of troops and heavy weapons in the region, the national government has failed to prevent the continued seizures of buildings there and some other eastern regions of Ukraine.
There are indications that Kiev does not have enough loyal troops to deliver on its promised protest crackdown. On several occasions the troops sent against activists simply defected, surrendering their weapons and armored vehicles.
You can share this story on social media: