​Sinn Fein leader Gerry Adams detained over notorious 1972 murder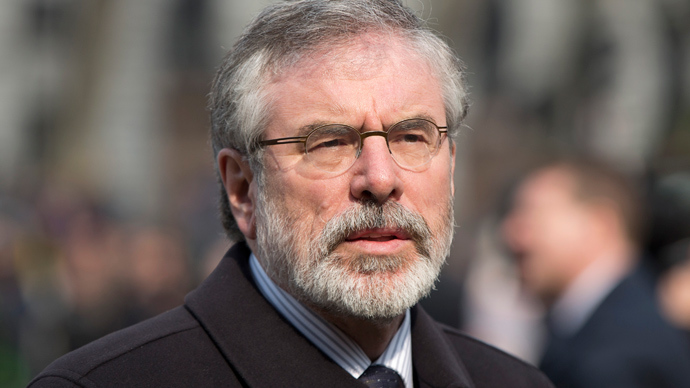 Northern Ireland police have detained and questioned Sinn Fein leader Gerry Adams in connection with the 1972 abduction and murder of Jean McConville by the IRA, his party said.
McConville, a widowed mother of 10, was abducted from her home in west Belfast and shot by the IRA amid fierce sectarian violence in Northern Ireland. She was wrongly accused of being an informant.
Adams, 65, said in a statement that he was "innocent of any part" of McConville's death, Reuters reported. Her body was recovered from a beach in County Louth in 2003.
The Police Service of Northern Ireland said in a statement that a man had "presented himself" to authorities Wednesday evening, but they did not name the suspect.
Sinn Fein said in a statement: "Last month Gerry Adams said he was available to meet the PSNI about the Jean McConville case. That meeting is taking place this evening."
Last month, Ivor Bell, a leader in the Provisional IRA in the 1970s, was charged with aiding and abetting McConville's murder. Other arrests have recently been made in connection with the murder.
Bell's case was based on an interview which he allegedly gave to researchers at Boston College in the United States. A series of candid, confessional interviews with former loyalists and republican paramilitaries was taped in an effort to provide an oral history of the Troubles.
Interviewees were told that the tapes would not be released to the public until after their deaths, but a series of court cases in the US resulted in some of the content being handed to law enforcement.
An investigation by the Northern Ireland Police Ombudsman cleared McConville of accusations that she was an informant. According to the Independent Commission for the Location of Victims' Remains (ICLVR), McConville was one of 16 people known as the 'Disappeared' – those abducted, murdered, and buried in secret by republicans during the era of the Troubles.
The IRA admitted in 1999 that it murdered and secretly buried nine of the Disappeared. The other seven have yet to be found. The ICLVR is aimed at locating the remains of those still missing.
You can share this story on social media: