Top US senator to withhold Egypt military aid over 'sham trial' of Islamists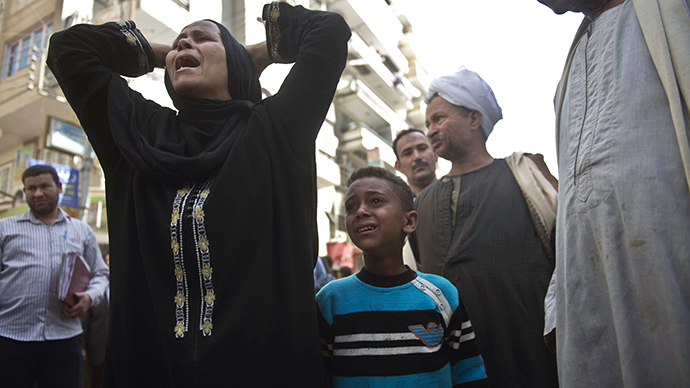 US Senator Patrick Leahy, chairman of the Senate subcommittee that handles foreign aid, says he will not approve funding for the military in Egypt, where 683 Muslim Brotherhood members were summarily sentenced to death on Monday.
The statement made by the longest-serving US senator is another complication in Washington's relationship with Cairo. Since the ouster last year of democratically-elected President Mohammed Morsi by the Egyptian military and allies, the Obama administration has walked a fine line between touting the democratic process while still ultimately maintaining strong allegiances with Egypt, a main ally in the region.
Last week, the Pentagon said it would send 10 Apache attack helicopters and $650 million to Egypt's military regime, which has brutally suppressed dissent among Islamist supporters of Morsi and other groups. The Apaches do not need congressional approval, aides on Capitol Hill said, according to Reuters.
"I'm not prepared to sign off on the delivery of additional aid for the Egyptian military," Leahy said from the Senate floor on Tuesday. "I'm not prepared to do that until we see convincing evidence the government is committed to the rule of law."
An Egyptian court sentenced to death 683 supporters of Morsi, forced from office last July, including one of his Muslim Brotherhood movement leaders, Mohamed Badie.
The new sentences passed on Muslim Brotherhood members came over charges relating to an attack on a police station last August. Some believe the mass sentence is an intimidation tactic to further suppress opposition ahead of the May election, and that the courts will eventually downgrade the execution mandates to life in prison.
Leahy, chairman of the State and Foreign Operations Subcommittee, called the court ruling part of "a sham trial lasting barely an hour."
"It's an appalling abuse of the justice system, which is fundamental to any democracy. Nobody, nobody, can justify this. It does not show democracy. It shows a dictatorship run amok. It is a total violation of human rights," he said.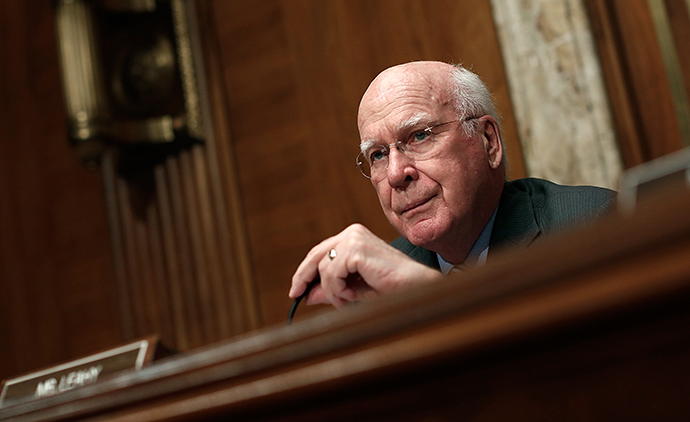 Washington usually offers $1.5 billion a year in aid to Egypt, most of it going to the military. Though a humanitarian law, written by Leahy, disallows funding governments that seized power through military coups.
Whether to call Morsi's overthrow in July a coup or not flustered the Obama administration, though it eventually cut off aid in October. Morsi was elected in a national vote after the 30-year reign of Hosni Mubarak ended in February 2011 amid popular unrest.
Obama administration officials have not commented on Leahy's statements, but said they would discuss the matter with members of Congress, according to Reuters.
US Secretary of State John Kerry met for an hour on Tuesday with Egyptian Foreign Minister Nabil Fahmy in Washington, where he made clear the US was "deeply disturbed" by the latest developments in Egypt, State Department spokeswoman Jen Psaki said.
"These actions represent a setback and make it more challenging to move forward," Psaki said at a department press briefing. She added that the State Department will be in touch with Congress to discuss concerns.
Elsewhere, the European Union's foreign policy chief denounced the mass death sentence.
"These mass trials are clearly in breach of international human rights law," the EU's Catherine Ashton said in a statement.
"The exact charges against each defendant remain unclear, the proceedings lack the most basic standards of due process and the verdicts appear grossly disproportionate, failing short of complying with the principle of individual sentencing," she said.
Ashton also questioned "the seriousness of Egypt's transition towards democracy."
"The EU calls on the Egyptian authorities to immediately reverse this trend which jeopardizes any prospects for overcoming divisions within society and to ensure progress towards a truly democratic, stable and prosperous Egypt," she said.
On Monday, United Nations Secretary-General Ban Ki-moon expressed dismay over the court's ruling.
"Verdicts that clearly appear not to meet basic fair trial standards, particularly those which impose the death penalty, are likely to undermine prospects for long-term stability," read a statement from the Secretary-General's office.