Moscow will not bargain with Kiev over Crimea's water supply – Russian resources minister
Published time: 29 Apr, 2014 20:25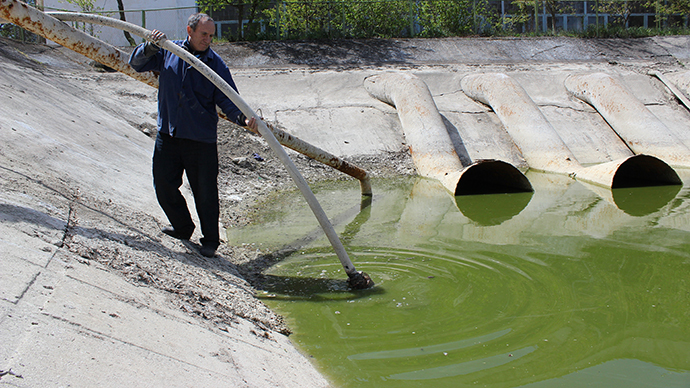 Russia will not engage in political bargaining with the Ukrainian government over its decision to cut off Crimea's water supply, Russian natural resources minister Sergey Donskoy said.
"The situation clearly shows that Kiev is unfriendly towards the people of Crimea. We're not surprised by this as recent developments characterize the regime in Kiev as anti-popular," Donskoy said, as quoted by Itar-Tass news agency.

Moscow will not take part in political bargaining because "it's the ordinary people who suffer" from water shortages, the minister said as he arrived in the city of Sevastopol.

Donskoy stressed that Crimea's agricultural industry is most affected in the current situation, but added that "we'll find ways to compensate the water demands."

"In Crimea, a lot of water is wasted. It's dumped into the sea. There's no water recycling in place, which would enable us to use water for technical needs after preliminary processing," he said.

The minister added that Crimea's water supply system is in rather bad shape after decades of Ukrainian rule.

"Today we examined the Feodosiya reservoir where over 70 percent of the water is unusable," he explained.

According to the minister, the water supply system in Crimea will be modernized by the Russian government, taking into account the specific features of each region of the peninsula.

He added that groundwater reserves will help satisfy Crimea's needs.
"But we must use all available options," the minister said, underlining the importance of reconstructing the existing facilities. Donskoy said this will be less expensive than erecting large desalination plants for sea water, which he called "the last option to be considered."

On Saturday, the coup-imposed Kiev government cut off water supply through the North-Crimean Channel, which delivers water from the Dnieper River to Crimea.

Crimea's Prime Minister Sergey Aksenov was quick to state that "there are no problems with drinking water. Agricultural producers will be compensated for their losses."

Crimea, which is dependent on Ukraine for 85 percent of its freshwater, offered an advance payment for the water from the Dnieper River. However, the talks were sabotaged by Kiev.

The relevant documents were sent to Ukraine's water management agency on five occasions, but were returned as "far-fetched" excuses, Vitaly Nakhlupin, head of the Permanent Economic Committee of the Crimean Parliament, said.

The ultranationalist coup in Kiev prompted the Crimean peninsula – home to an ethnic Russian majority – to hold a referendum on its future within Ukraine.

On March 16, over 96 percent of Crimean voters decided to cut ties with Kiev and rejoin Russia.

Crimea and the city of Sevastopol were officially accepted into the Russian Federation on March 21, with President Vladimir Putin signing a decree confirming the territories as part of Russia.