​Sex-traffic control: Air France exec, wife run prostitution racket worth millions
Published time: 29 Apr, 2014 08:52
Edited time: 29 Apr, 2014 08:58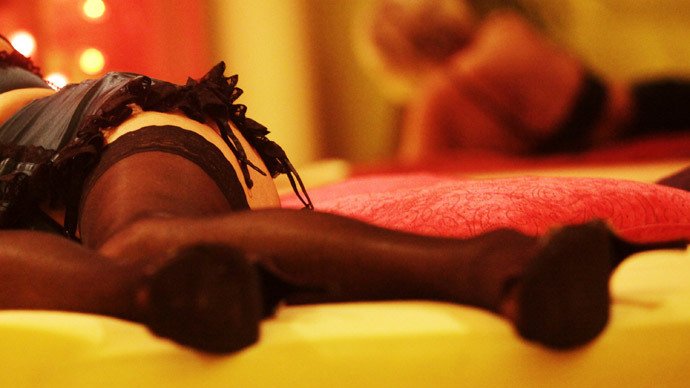 An executive at Air France used the airline to run a lucrative prostitution ring. The official, who was assisted by his wife, trafficked women from Brazil and subjected them to forced prostitution in trendy areas of Paris, local media reports.
Alain D., the only name the 54 year-old is known by at this time, has been charged on Tuesday with his Brazilian wife, Claudia, 51, and another accomplice, also from Brazil. They stand accused of human trafficking, pimping and organized crime, according to a Saturday report by Le Parisien. The three are now being kept at prisons in Val-de-Marne and Essonne, police sources told the French newspaper.
The business had been generating 2 million euro a year since 2010. Alain D. had managed flight crews at Paris's Charles de Gaulle airport, and was in a position to get sizeable discounts on tickets he used to transport women back and forth between France and Brazil, according to vice squad detectives.
Trips for new flesh would take place every month. Each time the trio returned, they'd present the girls as relatives. This reaped the bonus of traveling for 150 euro per person - a privilege reserved for families of Air France employees.
A break in the case came when one of the women, a student from Brazil who had arrived for university studies in 2010, somehow managed to escape her captors and report the prostitution ring to the police three years later. She had apparently been forced to be a sex worker by Claudia D.
A police source told Le Parisien that "Claudia D. had settled the young woman in an apartment on Rue de Rivoli in the 1st district, where she was to receive five customers per day. Sexual services were priced at up to 150 euro." It was actually the wife who was allegedly in charge of managing the sex network: placing online ads, setting up appointments and renting apartments for prospective clients.
To add insult to injury, the girls were coerced by Alain and Claudia to visit a "guru with mystical powers" – a self-styled spiritual therapist – and the third person charged in the case. This character was supposed to boost their self-confidence, alleviate the stress of their situation and help them settle into their new lives.
The 500 euro that the girls were allegedly forced to spend on each session essentially went back into the pockets of the accused.
The trio apparently lived large. They rented apartments in some of the most expensive areas and streets of the French capital, always trying to avoid detection by frequently changing accommodation.
A source with the vice squad has estimated the total turnover from the business since 2010 to be around 2 million euro annually and involving a dozen young girls. He told Le Parisien that "this is an extraordinary case."
Air France was also contacted for comment, but offered none at the time.
According to police, there was another, final destination to which the money was being funneled. An investigation is underway.