​200 Neo-Nazis celebrate Hitler's birthday in French village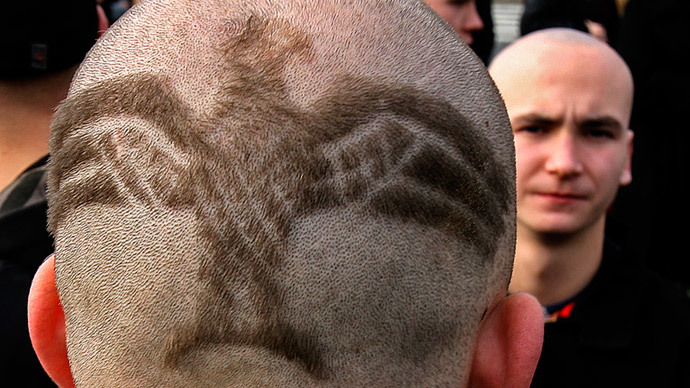 A celebration of Adolf Hitler's birthday by 200 neo-Nazis in a French village has sparked outrage in the country, with the main opposition party demanding an explanation from the Prime Minister on why the party was allowed and police did not interfere.
Over 200 neo-Nazis from France, Germany and Italy gathered on Saturday evening in a municipal hall in the village of Oltingue, in the Alsace region of north-eastern France, to celebrate 125th anniversary since Hitler's birth on April 20, 1889.
The party came as a shock for many local residents and raised questions of the local authorities. The local mayor, commenting on accusations, said he allowed the gathering because he was "tricked" while police explained they did not intervene since it would have been difficult to halt the party once it was underway, reported RFI (Radio France Internationale).
Andre Sherrer, the mayor of the small village not far from Swiss Basel, said he thought he rented out a room for an ordinary birthday party, rather than for an assembly to commemorate the Nazi leader.
"Two people showed up to book a room. They had all the right papers and insurance. Everything was in order. We had no idea we were being tricked," said Sherrer, as quoted by The Local.
"We were tricked and I regret it," he told local media, according to RFI.
It was only when Oltingue residents reported hearing chanting and live music at the hall did Sherrer realize what was happening and called the police.
However, when police arrived at the site of the party, they did not cancel the event, saying it would have been "legally complicated." Several gendarmes were sent to the area to "ensure calm and order."
Mayor Sherrer refrained from visiting the venue fearing it could spark violence.
"I didn't go because the police were already there," he said. When one goes into a room with a crowd of neo-Nazis, he went on, "you are not going to tell them to get out," as "if you did, it would be you who'd be thrown out."
A police source confirmed to AFP that the mayor had not been aware of the planned neo-Nazi event when renting out the hall.
The Hitler anniversary - with several rock groups playing - had been advertised on the internet several months in advance, but the details of the venue were only provided at the last moment.
However, according to a deputy leader of France's center-right Union for a Popular Movement party (UMP), German authorities warned their French colleagues about the upcoming Neo-Nazi gathering.
Roger Karoutchi, outraged over the incident, wrote to Prime Minister Manuel Valls asking him to explain how 200 Hitler fans could have been allowed to celebrate the Nazi leader's birthday in a French municipal building.
"If the German authorities had warned their French counterparts about this meeting then why was it allowed to take place?" he added.
You can share this story on social media: