Ebola outbreak: Death toll rises to over 140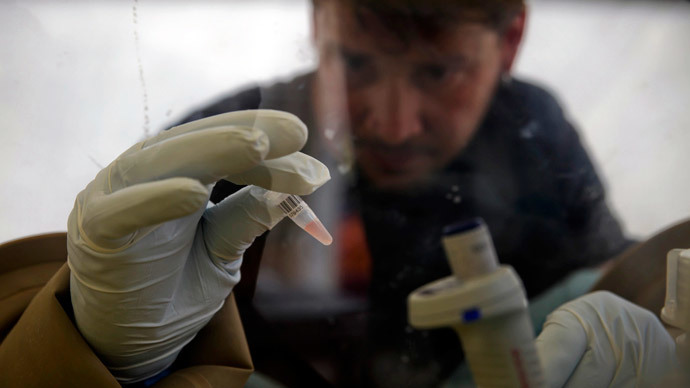 A total of 142 deaths have now been recorded from the Ebola outbreak in Guinea and Liberia, according to the World Health Organization (WHO). Researchers believe that a new strain of the virus is responsible for the epidemic in West Africa.
Guinea, which has borne the brunt of the outbreak, has reported 208 clinical cases of the Ebola virus (EBOV) and 136 deaths so-far. While neighboring Liberia has found 34 clinically compatible cases, including six deaths.
The outbreak began at the beginning of the year in the forested villages of southeast Guinea, and then appeared in the capital Conakry.
As little as nine days ago the number of deaths and infections had begun to fall and it seemed that the outbreak was under control. The latest figures have quashed any hope that the spread of the disease is being contained.
There are several theories about how the disease has spread. A study published in the New England Journal last week said that the virus was due to "the emergence of a new EBOV strain in Guinea."
Normally Ebola is endemic to the Democratic Republic of Congo (DRC), Uganda, South Sudan and Gabon in Central Africa but the latest research shows that it was not introduced from this region.
"This study demonstrates the emergence of a new EBOV strain in Guinea. It is possible that EBOV has circulated undetected for some time," wrote the group of more than 30 doctors and scientists.
The spread of Ebola in West Africa has been fast and furious and has caused panic and made headlines in a region with weak health care systems and porous borders.
A senior Guinean health official told Reuters last week that the government would stop publically releasing the death count so has to avert panic.
All countries in the region have imposed strict health checks at airports, while Gambia has banned aircraft from picking up passengers in Guinea and Senegal has completely shut its land border with its southern neighbor. So far samples from Ghana and Sierra Leone have been negative.
There is no cure or vaccine for Ebola, which takes its name from a river in the DRC, and in up to 90 percent of cases it kills.
Symptoms are horrifying and begin with nausea, which then deepens into diarrhea, vomiting and internal and external bleeding.
The virus most likely was spread from an animal, probably a fruit bat, which is common over vast areas of West Africa. Officials think someone ate the meat of an infected bat, which then spread the infection.
You can share this story on social media: