India denies 'rethink' of its stance on Palestine – media
New Delhi's vote last week on a UN resolution condemning Israeli settlement activities was "routine," officials claim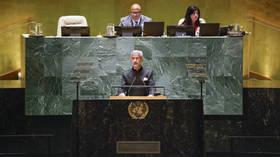 New Delhi's vote on the United Nations' proposed resolution criticizing Israel last week does not indicate a shift in its stance on the ongoing conflict in Gaza, and only reflects its position on "routine" resolutions that are passed regularly each year, unnamed officials told The Hindu.
India was among 145 countries which on November 9 voted in favor of a UN resolution condemning Israeli settlement activities in "the Occupied Palestinian Territory, including East Jerusalem, and in the occupied Syrian Golan." The UN draft resolution passed with an overwhelming majority, while seven countries, including the US, Canada, Hungary, and Israel voted against it and 18 abstained from voting.
The Fourth Committee of the UN General Assembly on November 9 voted to pass six resolutions that criticize Israel and support aid for Palestinians in the Occupied Territories and refugees elsewhere. India voted in favor of five of the six resolutions, abstaining from one that dealt with investigating Israeli practices and operations for human rights violations.
Commenting on India's vote, the official explained that these "annual, regular resolutions" were different from the Jordan-led resolution last month seeking a ceasefire in Gaza and unhindered humanitarian access to the besieged territory, where India had abstained.
In October, India's Foreign Ministry stated that its abstention from the October 26 vote reflected its zero-tolerance policy on terrorism, and that the country could not vote in favor of resolutions that didn't directly reference the October 7 attack carried out by Hamas. The official pointed out that the "ceasefire resolution" was a special vote that had taken place against the backdrop of the ongoing conflict.
The clarification on last week's vote comes in the wake of speculations that New Delhi had "had another 'rethink' on its UN voting policy," the outlet noted. Since the outbreak of the conflict, India's position has been under scrutiny both at home and abroad; hours after the beginning of the Hamas attack, Indian Prime Minister Narendra Modi emerged as one of the first world leaders to condemn terrorism and express solidarity with Israel.
The Indian Foreign Ministry later clarified that New Delhi continues to abide by its "long-standing position" on the need to negotiate a two-state solution to resolve the decades-old conflict. Recently, India reiterated the need for such a solution at a ministerial meeting between India and the US, a key ally of Israel, on November 10.
The Hindu also quoted a former diplomat who stated that New Delhi's stance on the Middle East conflict is a "transactional" position.
"It is clearly a more realpolitik, national interest-oriented foreign policy as understood by the people who make policy today," former Ambassador to the US and the UK Navtej Sarna was quoted as saying at a panel discussion organized by the Indo-America Friendship Association on Monday. The diplomat observed that India's vote will be "a more significant indicator of how we stand" if there is a major reaction from Arab countries.
Indian Prime Minister Narendra Modi recently spoken to several leaders of Middle Eastern countries, including Iranian President Ebrahim Raisi, UAE President Sheikh Mohamed bin Zayed Al Nahyan, and Egyptian President Abdel Fattah El-Sisi. By and large, leaders in the Arab world have been highly critical of Israel's offensive in Gaza and have repeatedly called for a ceasefire.
You can share this story on social media: