Taiwan looks to India to address manpower shortage
Taipei may strike a deal with New Delhi to hire Indians for its infrastructure and agriculture sectors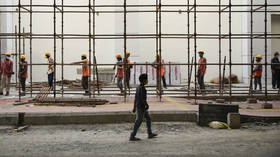 Taiwan and India are reportedly in talks to sign a pact on "migration and mobility" as the Chinese territory grapples with a shortage of workers in the manufacturing, construction and agriculture sectors. The agreement could be signed "as early as next month," the Hindustan Times reported earlier this week, citing sources familiar with the matter.
Taiwanese firms have expressed a keen interest in hiring people from India's northeast region, home to around 45 million people, due to the similarity in "culture and diet," the report claimed. The move could put bilateral trade "in the right direction" and has "immense potential," the report said, citing Manharsinh Laxmanbhai Yadav, director general of the India-Taipei Association.
Although India does not have formal diplomatic ties with Taiwan, which Beijing views as its own territory, bilateral trade has been growing steadily in recent years, with India ranking as Taiwan's 14th-largest export destination and its 18th-largest source of imports, the report noted. Trade has grown more than seven-fold in the past two decades, from $1.19 billion in 2001 to $8.4 billion in 2022.
According to data from Taiwan's Ministry of Labor, cited by the Taipei Times, as of August the territory has attracted over 746,000 migrant workers in traditional industries and the caregiving sector, with the majority coming from Indonesia, Vietnam, the Philippines and Thailand, and to a lesser extent Malaysia and Mongolia.
Jobs in Taiwan could have a strong appeal for Indian workers – the monthly minimum wage on the island is 26,400 New Taiwan dollars (about $820) per month, in contrast to India's national-level minimum daily wage of 178 rupees (US$2.15), which translates to around 5,340 rupees ($65) per month.
India and Taiwan established their representative offices in the mid-1990s, acting as de-facto missions. In July, Taiwan announced plans to expand the network of such offices in India – with a new one potentially opening in Mumbai later this year. Taiwan has two operations offices in India – the Taipei Economic and Cultural Center (TECC) in New Delhi, and an office in Chennai.
The strengthening of economic ties between India and Taiwan will be closely watched by Beijing, which has traditionally objected to any such engagement. New Delhi has been gradually bolstering its alliance with Taiwan amid tensions with Beijing, following a deadly border stand-off in 2020.
Last year, following former US House speaker Nancy Pelosi's visit to Taipei, China sought a reaffirmation of India's adherence to the 'One China' policy. India's Foreign Ministry spokesperson said at the time that "India's relevant policies are well-known and consistent. They do not require reiteration." Despite New Delhi following the 'One China' policy, it has not reiterated the stance publicly or in bilateral documents for over a decade.
You can share this story on social media: