Developing nations laud India for reserving them a 'seat at the global table'
New Delhi has launched an initiative to share its expertise and best practices with countries of the Global South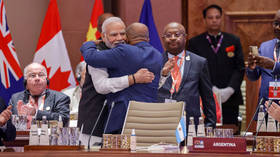 India and the UN jointly launched on Sunday the 'India-UN Capacity Building Initiative' aiming to bolster the capabilities of Global South countries. The move will entail India sharing its "development experiences, best practices and expertise" with partner countries, India's permanent mission to the UN in New York said in a statement on Saturday.
The initiative was officially announced during an event on the sidelines of the ongoing UN General Assembly in New York, where New Delhi is seen as positioning itself as the voice of the Global South. One of the partners for the initiative is the Bill & Melinda Gates Foundation.
The initiative will also seek, according to a statement, to "operationalize the development-relevant deliverables of India's G20 presidency," including the G20 Action Plan for advancing the Sustainable Development Goals and enhancing technology and digital infrastructure. "Our experiences and our achievements we place before you in a spirit of sharing," External Affairs Minister S. Jaishankar said at the ceremony, which was attended by ministers of several developing countries.
Vince Henderson, the foreign minister of Dominica, lauded India for being engaged with global concerns despite facing the challenge of having to pull millions of its own citizens out of poverty. "We believe that India is emerging as a very important player in global affairs. And we believe that India deserves to have a permanent Seat on the United Nations Security Council," he added.
Hugh Todd, the finance minister of Guyana, said that "India has a seat at the table and India is taking us on board. When India is successful, they also give you the tools to be successful."
Saint Lucia's foreign minister, Alva Baptiste, said his country looks to India as the nation that has stepped forward to find a "middle ground" in the "East-West North-South divide to build the necessary bridges." "As the world continues to witness the redistribution of power, India is increasingly taking its rightful place in this multi-polar world," he added.
"In many respects, India stands as a stalwart leader of the Global South," said Bhutan's finance minister, Tandi Dorji, while also lauding the country for championing the inclusion of African nations in the G20 grouping.
Ruchira Kamboj, India's permanent representative to the UN, said that India stands ready to "share its experiences and expertise with the Global South." "We are keen for an exchange of best practices between our countries, recognizing that there is much we can all learn from each other," she added.
The Global South broadly comprises countries in Africa, Latin America and the Caribbean, Asia (excluding Israel, Japan, and South Korea), and Oceania (excluding Australia and New Zealand).
You can share this story on social media: