Apple to ramp up production in India – reports
The recent launch of the iPhone 15 in the country came with long lines and violence in showrooms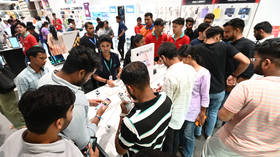 Apple is planning to scale up iPhone production in India five-fold, amid soaring demand in the country as well as globally. The company has been making its flagship product locally since 2017.
The tech giant is planning to increase production in India to over $40 billion in the next 4-5 years, from around $7 billion in the last financial year, PTI news agency reported, citing an unnamed Indian government official.
Besides its iPhone line, Apple plans to start manufacturing airpods in the country next year, according to the official. At the same time, the person said the company has no immediate plans to locally make tablets or laptops.
The latest iteration of Apple's iPhone was released globally last week. For the first time, the US company has started selling India-built handsets worldwide – a matter of pride for Prime Minister Narendra Modi's government, which has been pushing a 'Make in India' initiative. The project incentivizes foreign companies to localize production across sectors from defense to consumer goods. Two of the four models in the latest Apple handset series, the iPhone 15 and iPhone 15 Plus, are being manufactured in India.
"Another India milestone today," New Delhi's Minister of State for Electronics and IT said in a post on X (formerly Twitter). "Tremendous feat for PM Narendra Modi ji's visionary PLI [Production Linked Incentive] scheme. Apple 's latest #MakeInIndia iPhone 15 now available across the country on the first day, simultaneously with its global launch. Indians now accessing the latest products without waiting."
Economic Times has reported that for the first time Apple outpaced its Korean rival Samsung in terms of India-made smartphone exports. Apple devices accounted for 49% of India's total 12 million smartphone shipments in the first quarter of the current fiscal year (June to April), compared to Samsung's 45%.
Indian demand was put to the test last week when Apple launched the iPhone 15 in its stores in Mumbai and New Delhi. Retail locations have sold out completely and new online orders will not arrive until at least mid-November in several countries, Indian media reported. Sales are expected to pick up further as India gears up for the widely-celebrated festivals of Navratri and Diwali.
Long lines were witnessed outside the company's retail stores on the day of the launch. The frenzy over the new handsets was so high in New Delhi that customers brawled with store staffers over a delay in the delivery of the phones, Indian media said. A video of the incident was released online and instantly went viral on social media platforms. Delhi police later brought charges against the suspects.
#WATCH | Delhi Police took legal action against the customers after a scuffle broke out between customers and mobile shop employees after an alleged delay in supplying iPhone 15 to him in the Kamla Nagar area of Delhi(Viral Video Confirmed by Police) pic.twitter.com/as6BETE3AL

— ANI (@ANI) September 23, 2023
The Indian government's subsidies to make iPhones in India have reduced the manufacturing costs of the device. However, prices of the phones are said to be higher there in comparison to other markets, including the US. According to Counterpoint Research, it is because Apple remains an "aspirational brand" in India, and a decision by Apple to lower retail prices could negatively affect that perception.
You can share this story on social media: