India to wake 'sleeping' lunar probe
Modules of the Chandrayaan-3 spacecraft are currently in hibernation mode near the Moon's south pole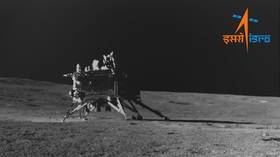 India will attempt to wake the Chandrayaan-3 mission's lander and rover from hibernation mode this week, two weeks after they successfully landed near the south pole of the Moon.
Indian Space Research Organization (ISRO) scientists hope to revive the modules on either Thursday or Friday, when the Sun rises at the 'Shivshakti Point' – a location near the lunar south pole where Chandrayaan-3 landed in August, the Hindustan Times reports.
Space agency chairman S. Somanath said its scientists are hoping the equipment can be revived to continue collecting more data. The mission objectives have already been completed and the modules were put in hibernation mode from September 2.
The chances of success appear to be slim, however, as it is unlikely that the instruments on the modules survived the extremely low temperatures of the lunar night, which can dip below -200 degrees Celsius at the Moon's south pole. The payload also had a mission life of just one lunar day, which is equivalent to around 14 days on Earth.
The modules' batteries, powered by sunlight, were charged and solar panels were oriented to receive light at dawn. Indian scientists are hoping that the batteries will have kept the instruments warm enough to survive the night. Spacecraft designed to survive the night on the Moon are usually fitted with some onboard heating mechanism, which is not the case with the Chandrayaan-3.
India's lunar mission, which was launched at a cost of around 6.1 billion rupees ($75 million), has been seen as a major success for the country. On August 23, the Chandrayaan-3 created history by landing near the little-explored south pole of the Moon. A few days later, it confirmed the presence of sulfur in the region after on-site tests.
On Wednesday, the upper house of India's parliament unanimously passed a resolution congratulating scientists on the success of the Chandrayaan-3 mission.
"India has not only developed the capacity to launch its own satellites," said Indian Vice President Jagdeep Dhankhar, "but has also extended its services to launch satellites for other countries, with 424 foreign satellites being launched to date."
Speaking in the parliament, Finance Minister Nirmala Sitharaman said "the success of Chandrayaan-3 will have a big impact on India's industrial and technological ecosystem." Close on the heels of the Chandrayaan-3 mission, India has deployed another space mission – the Aditya-L1 – this time, to study the Sun.
You can share this story on social media: