India protests 'absurd' Chinese territorial claims
New Delhi has lodged a diplomatic protest with Beijing over a new map that "lays claim to India's territory"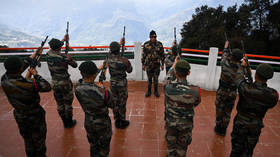 The Indian government said on Tuesday it has lodged a protest with Beijing over a new "standard map" which shows the Indian state of Arunachal Pradesh and the Aksai Chin plateau as parts of China.
"We have today lodged a strong protest through diplomatic channels with the Chinese side on the so-called 2023 'standard map' of China that lays claim to India's territory. We reject these claims as they have no basis. Such steps by the Chinese side only complicate the resolution of the boundary question," India's Ministry of External Affairs spokesman said.
The remarks followed reports in the Indian media of China's new official map. The news sparked outrage on social media and an angry response from India's External Affairs Minister Dr. Subrahmanyam Jaishankar, who accused Beijing of making groundless territorial claims in an interview with broadcaster NDTV.
"Just by putting out maps with parts of India… This doesn't change anything. Our government is very clear about what our territory is. Making absurd claims does not make other people's territories yours," the minister said. Jaishankar served as India's Ambassador to China between 2009 and 2013.
Chinese foreign ministry on Wednesday responded to Delhi's objection stating the release of the map "is the country's normal exercise of sovereignty in accordance with the law". "It's hoped that relevant parties will treat it objectively and not over-interpret it," Beijing added, according to Global Times.
China's Ministry of Natural Resources released the 2023 edition of the standard map on Monday, while marking 'Surveying and Mapping Publicity Day' and the 'National Mapping Awareness Publicity Week', according to the China Daily newspaper.
The map's publication followed a meeting between Indian Prime Minister Narendra Modi and Chinese President Xi Jinping on the sidelines of the 15th BRICS summit in Johannesburg, South Africa, last week, at which the leaders discussed efforts to resolve boundary disputes.
Modi and Xi agreed to "direct their relevant officials to intensify efforts at expeditious disengagement and de-escalation," India's Foreign Secretary Vinay Kwatra said. Both leaders are expected to meet again at upcoming G20 Summit, which New Delhi will host on September 9 and 10.
India and China have also held a 19th round of Corps Commander-level talks as part of efforts towards disengagement and de-escalation, seeking to resolve border issues that have been overshadowing relations since May 2020, when a violent clash was erupted between Chinese and Indian troops in the Galwan Valley, resulting in the deaths of 20 Indian and four Chinese soldiers.
In April this year, Beijing said it had "standardized" the names of 11 locations in Zangnan, or South Tibet – the terms China uses for the eastern areas of Arunachal Pradesh, where the two nuclear-armed neighbours fought a full-scale war in 1962. The move to rename residential areas, mountain peaks and rivers in Chinese characters, Tibetan and pinyin, was made "in accordance with regulations on geographical names" issued by China's cabinet, the Global Times reported. It followed similar renaming initiatives undertaken by Beijing in April 2017 and December 2021.
New Delhi reacted strongly at the time, with Foreign Ministry spokesperson Arindam Bagchi saying: "Arunachal Pradesh is, has been and will always be an integral and inalienable part of India."
You can share this story on social media: