India considers spy angle after Pakistani woman jumps border to find 'love'
The Bollywood-like story that startled both New Delhi and Islamabad is being investigated by security agencies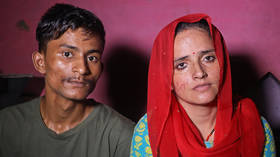 An inter-faith, cross-border love story that made headlines in India and Pakistan earlier this month has taken a new twist, with the Indian government investigating the illegal entry of Pakistani national Seema Haider into India along with four children to join her Indian 'lover' whom she met online three years ago.
Seema had entered India via Nepal by bus, without valid travel documents, with her four children all aged under seven, on May 13. She said she came to India to meet her lover Sachin Meena, who lives in rented accommodation in Rabupura, a town in Greater Noida, Uttar Pradesh (UP), bordering the capital, New Delhi. On July 4, the couple was arrested by the UP police. But three days later a local court granted them bail and they returned to Sachin's residence, while a probe was initiated.
On July 19 July, the Anti-Terrorism Squad (ATS) of the UP police said it had recovered two video cassettes, four mobile phones, five Pakistan-authorized passports, an unused passport containing an incomplete name and address, and an identity card from Seema, who also appeared to be proficient in English, raising suspicion that she might be involved in espionage.
The ATS department authorities said both Seema and her partner Sachin were interrogated for two days, while officers from the Intelligence Bureau, a federal agency, were present. Police officials refused to speculate as to whether Seema is a Pakistani spy, following the seizure of several incriminating documents from her.
Seema, 30, who hails from Pakistan's Sindh province, had moved to Pakistan's biggest city, Karachi, in 2014 after she got married to Ghulam Haider. In 2019, her husband left for work in Saudi Arabia. A year later, Indian national Sachin, 22, who works in a local grocery store, got in touch with Seema while playing PUBG, an online game. They reportedly became attracted to each other and started communicating after exchanging phone numbers.
Seema decided to relocate to India with her children while Ghulam was unaware of her intentions. In March, Sachin and Seema met in Kathmandu, where they got married at a temple as per the Hindu tradition, even though she is a Muslim, and stayed together for a week under false identities. Later, Seema claimed to the media in India that she had converted to Hinduism and did not want to return to Pakistan because of marital discord with her husband, and threats to her life resulting from stringent Islamic laws.
On her return from Kathmandu to Pakistan, Seema sold a plot of land for 1.2 million Pakistani rupees ($4,400) – she had managed to save the money that her husband used to send as monthly remittances – and arranged travel documents for Nepal for her and the four children. She chose to travel to India via Nepal as the countries share an open border. Ghulam, who found out that Seema and their children were in Greater Noida through media reports, has appealed to the Indian government for help in reuniting with his wife.
Meanwhile, the Bollywood-like love affair has triggered genuine alarm in both India and Pakistan – the nuclear-armed neighbors who have fought three wars since gaining independence from Britain in 1947. Communal tensions have flared up in Pakistan, where online threats were issued to a minority Hindu community, if Seema would not be allowed to return home with her children. In India, Mumbai Police received a call from an unidentified person warning of a terror attack on the scale of the November 26, 2008 Mumbai atrocity, in which over 160 people were killed and many wounded, if Seema did not return to Pakistan.
You can share this story on social media: