India's top court to hear plea against Modi govt's historic Kashmir move
Petitions are challenging constitutional changes that ended autonomy for the disputed region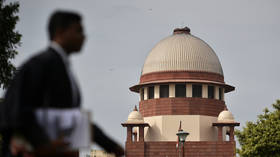 The Supreme Court of India has announced it will begin hearing petitions against changes to the constitution which ended special status for the northern state of Jammu and Kashmir almost four years ago. The daily hearings will begin on August 2 and will examine whether the changes were conducted without the consent of the population in the strife-torn state, which has been the epicenter of a secessionist movement for decades.
Article 370 was scrapped in August 2019 by Indian Prime Minister Narendra Modi's government, just a few months after it was reelected for a second consecutive term. The Indian parliament later passed the Jammu and Kashmir Reorganization Act, splitting the state into two 'Union Territories', namely Jammu and Kashmir, and Ladakh. Both share a border with Pakistan and China.
The petitions will be taken up by a five-member constitutional bench, led by Chief Justice of India D. Y. Chandrachud and comprising Justices Sanjay Kishan Kaul, Sanjiv Khanna, B. R. Gavai, and Surya Kant. The petitioners have questioned the constitutionality of removing Jammu and Kashmir's special status. The Supreme Court will also examine whether parliament could have scrapped Article 370 unilaterally without seeking the consent of local citizens. Over 20 petitions are pending before the Supreme Court. The case was heard by a different five-judge bench in 2020, although the court had refused to refer the matter to a larger bench.
On Monday, the government claimed in an affidavit to the court that the 2019 decision had resulted in "unprecedented development, progress, security and stability" in the region. The affidavit argued that the earlier practice of "strikes and bandhs [shutdowns]" was "a thing of the past."
It also noted increased tourist flows to the state, known for its natural beauty, and that participation in sports activities had increased in the past year. "These facts clearly prove the positive impact of the constitutional changes effected in 2019," the document stated. The abrogation of Article 370 was an integral part of the right-wing Bharatiya Janata Party's (BJP) manifesto before the 2019 parliamentary elections. Chief Justice Chandrachud stated the government's affidavit would not have any bearing on the constitutional issues raised in the petitions "and shall not be relied upon for that purpose."
Responding to that decision, former Jammu and Kashmir chief minister Mehbooba Mufti claimed that it "vindicates that it [the government] doesn't have any logical explanation to justify [the] illegal abrogation of Article 370."
Another former chief minister, Omar Abdullah, whose National Conference is among the petitioners, said the positions laid out in the affidavit were "political arguments" rather than legal ones, which the BJP or Union government can use "to sell their decision to the voter." "The entire case in the SC [Supreme Court] is about the illegality & unconstitutionality of what was done on 5th Aug 2019, not whether the Govt has a strong enough political case," Abdullah tweeted.
You can share this story on social media: