Cost of key household staple eases in India after year-long volatility
The price of sunflower oil has decreased to $405 per ton, or by 31.52%, since the beginning of this year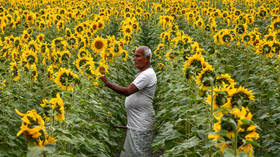 Sunflower oil, a kitchen cupboard staple in most urban Indian households, has plummeted by as much as 30% in price so far this year following the surge after Russia launched its military operation in neighboring Ukraine last February. India imports 60% of its edible oil, namely sunflower and palm oil.
About 13 million tons of India's total annual edible oil consumption of around 23 million tons are imported, according to data from the country's Ministry of Agriculture and Farmers Welfare.
Of these imports, 90% come from Ukraine and Russia, with sunflower oil accounting for 15% of India's edible oil needs. Those two countries, meanwhile, are responsible for around 60% of global production.
According to contract for difference (CFD) trading data for the sunflower oil market, the price of the commodity has decreased to $405 per ton, or by 31.52%, since the beginning of this year.
However, the volatility has had a knock-on effect on middle-class Indian households, as prices had hit a record high last year. Sunflower is the fourth most consumed oil in the country after mustard, soybean and palm oil. The price of sunflower oil skyrocketed following the suspension of shipping operations through the Black Sea ports of Theodosia, Odessa, Novorossiysk, Chernomorsk, and Yuzhny.
Indian government data shows the price of crude sunflower oil having shot up to $2,155 per ton in April 2022, from $1,475 per ton in January of that year, due to the disruption in the movement of freight from these key Black Sea ports.
Though shipping partially resumed thanks to the Black Sea Grain Initiative agreement between Russia and Ukraine signed in Türkiye last July and recently extended for another two months, the movement of goods from the designated Ukrainian ports, largely to countries in the Global South, has been slow amid the growing price pressure. The grain pact was brokered by Türkiye and the United Nations.
According to the Solvent Extractors Association of India, the country's import bill for edible oil, including palm oil from Malaysia, rose by 34.18% to $19 billion in October of last year.
For sunflower oil, the import value for the financial years 2021 and 2022 (ending on March 31) was a respective $2.88 billion and $3.22 billion.
At present, the import price for sunflower oil has eased to $950 per ton, inclusive of cost, insurance and freight (CIF), as India's domestic production of sunflower oil is stagnant at a meager 50,000 tons.
The retail price of sunflower oil may work out to around 90 rupees ($1.09) per kilogram, inclusive of import duty and processing costs, but the reality on the ground suggests that in the southern Indian metropolises of Chennai and Bengaluru it is being sold for 120 rupees ($1.45) per kilogram because of a gap in the minimum retail price (MRP) mechanism.
Few commodities have seen such price volatility as sunflower oil since the onset of the pandemic. Last year, it retailed in India at prices upwards of 200 rupees ($2.41) per kilogram.
Sunflower oil consumption in India is predominant in the southern states because Karnataka, Telangana, and Maharashtra are the traditional growers of the oilseed. Sundrop, Dhara, Dalda, Freedom, Nature Fresh, Fortune and Gemini are among the leading sunflower oil brands in India.
You can share this story on social media: