Suspected extremist attack kills 11 in central India
The incident occurred in the tribal-dominated Dantewada district, a hotbed of insurgency activities in Chhattisgarh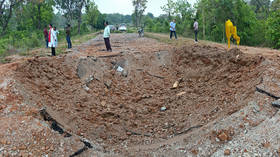 Radical left-wing rebels are suspected of being behind an improvised explosive device (IED) blast that killed ten security personnel and a driver in the central Indian state of Chhattisgarh on Wednesday, police have said.
The incident occurred in Aranpur, around 450km (279 miles) from the state capital, Raipur, in the tribal-dominated Dantewada district – a hotbed for Maoist insurgency. So far, none of the multiple factions of rebels have claimed responsibility for the incident.
Chhattisgarh Chief Minister Bhupesh Baghel vowed to the media that the perpetrators would not be spared and offered his condolences to the bereaved families. The attack was the largest on the security forces in the state – which goes to polls later this year – in the past two years. In April 2021, ultra-left insurgents killed 22 security personnel in an ambush along the border of the Sukma and Bijapur districts in Chhattisgarh.
The security personnel slain on Wednesday were traveling in a rented minivan and were part of the District Reserve Guard (DRG), a state force that has been raised to combat anti-Maoist operations. The DRG personnel had left for Aranpur following a tip-off on the presence of rebels in the area. The IED went off on the road as they were returning to their headquarters.
Explosives weighing 50kg (110lbs), were purportedly used in the attack. Central Reserve Police Force (CRPF), a paramilitary outfit, and DRG personnel have been dispatched to search for the perpetrators.
Indian Prime Minister Narendra Modi has condemned the attack and paid tribute to the victims and their families. Indian Federal Minister for Home Affairs Amit Shah, who is in charge of internal security, also spoke with CM Baghel, who belongs to the Opposition Congress party, and assured him of all assistance.
Left-wing extremist groups have been one of India's biggest internal security challenges for decades, although the Indian government says their attacks are on the decline. Data released by CRPF authorities earlier this year showed that the number of attacks dropped by 77% in 2022, as compared to 2010. According to the government, left-wing extremists claimed the lives of 98 civilians and security forces last year, as compared to 147 in 2021.
You can share this story on social media: