Separatist Sikh leader arrested after a month on the run
Amritpal Singh has been transferred to a notorious high-security prison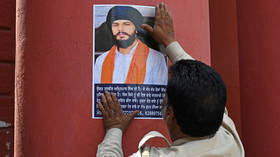 Indian police have arrested Sikh separatist leader Amritpal Singh, after a month-long manhunt that involved up to 80,000 personnel. Singh, who heads the Waris Punjab De political group which calls for an independent Khalistan on the border with Pakistan, was detained early on Sunday in a village in Punjab's Moga district.
The manhunt began after an attack by Singh's followers on a police station in Amritsar – a holy city for the Sikhs in Punjab. The activists demanded the release of one of Singh's aides, Lovepreet Toofan.
Singh was arrested at a gurdwara – a Sikh shrine – in Rode village, the hometown of slain Khalistani militant Jarnail Singh Bhindranwale. He has been booked under the stringent 1980 National Security Act.
Following his detention, Singh was flown to Dibrugarh in Upper Assam and placed in a notorious high-security prison which has not reported a single escape in its 170-year history.
Police sources said Singh had been on the move for over a month and was shuttling between Punjab, Haryana, Uttar Pradesh and Delhi. He never stayed in one place for more than a few days to avoid capture and often disguised himself, according to CCTV footage.
The separatist leader's new wife, Kirandeep Kaur, who is a UK-based non-resident Indian, was also arrested on April 20 while trying to board a London-bound flight at Sri Guru Ram Dass International Airport in Amritsar.
Singh is believed to have attempted to ensure Kaur's safe passage from India before fleeing and was allegedly routing funds to the UK prior to his own planned exit. He had worked in his family-owned transport business in Dubai between 2012 and 2021 and only returned home to support widespread protests against new farm laws.
Indian authorities claimed that Singh had been trained in Georgia by Pakistan's intelligence unit, the ISI, before he returned to India. He was allegedly offered money by the ISI to revive militancy in Punjab, the aftershocks of which have since been felt in the UK, Canada and Australia.
Singh has made controversial statements in the past few months espousing the Khalistani cause and was allegedly radicalizing unemployed youth in Punjab. The region is home to terrorists who had assassinated former Punjab Chief Minister Beant Singh in 1995.
You can share this story on social media: