Ukraine figures high in Germany-India talks
The German leader is on his maiden two-day visit to India to bolster ties in defense and technology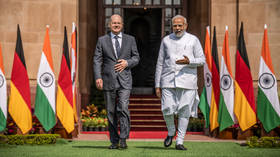 Russia's special military operation in Ukraine, which marked its first anniversary on Friday, figured high on the one-to-one talks between visiting German Chancellor Olaf Scholz and the Prime Minister of India Narendra Modi in New Delhi on Saturday.
Indian Foreign Secretary Vinay Mohan Kwatra reiterated India's position on the Ukraine situation.
He emphasized that New Delhi has been concerned about the impact on food, fertilizer and fuel security, which is hurting the developing economies in Asia, Africa and Latin America – collectively known as the Global South – in a major way.
Kwatra maintained that Germany shares concerns similar to those of India, that it's in favor of an early cessation of hostilities between the two countries, and that it acknowledges the complexities in the global economies arising out of the situation.
He said both New Delhi and Moscow have a deep understanding of each other's position at the United Nations (UN). The comment was made in reference to India's action at the UN General Assembly (UNGA) on Thursday.
India was one of the 32 nations who abstained from voting on a UNGA resolution that condemned Russia's 'invasion' of Ukraine.
"India and Germany are of the firm agreement that dialogue and diplomacy are the path forward because peace is beneficial for all developing countries. Both nations are in favor of strengthening the constituency of peace," he added.
"The German leader, who is on his maiden visit to India since assuming office in end-2021, was visibly impressed by the country's economic growth and development. He had last visited India in 2012 as the mayor of Hamburg," Kwatra said.
Prime Minister Narendra Modi said India and Germany were committed to realizing their untapped potential in sectors such as security and defense cooperation.
Germany is in talks with India to sell it six conventional submarines for $5.2 billion.
Experts see the move as a bid to wean New Delhi away from its dependence on Russia for military hardware. But the ploy appears duplicitous because of Germany's strong trade ties with both China and Russia.
For instance, China is one of the primary buyers of German machine tools and Berlin is heavily dependent on Russia for its energy supplies.
Germany is also India's largest trade partner in the 27-member European Union (EU) and has been among New Delhi's top ten global trade partners. Data shows that the total bilateral trade between the two countries stood at $24.8 billion during 2021–22, and over 1,800 German companies are known to operate in India.
Germany is the ninth largest investor in India, with cumulative foreign direct investment (FDI) inflows of $13.8 billion from April 2000 to September 2022.
Transportation, electrical equipment, and metallurgical industries, the services sector (in particular insurance), chemicals, construction activity, trading and automobiles are key areas of German investment in India.
Scholz last met Modi at last June's summit of the Group of Seven (G7) industrial powers during an outreach to rally New Delhi's support amid growing concerns over China's backing of Russia over Ukraine.
You can share this story on social media: