India accuses BBC of tax evasion
The allegations follow three days of searches at the UK broadcaster's New Delhi and Mumbai offices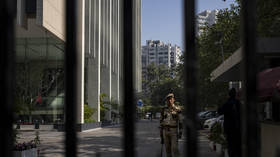 The Indian government has accused the BBC of tax evasion, saying it found "several discrepancies" in the agency's financial records. The news organization insists it has been unfairly targeted over critical reporting on Prime Minister Narendra Modi.
In a statement issued on Friday, India's Finance Ministry said it had unearthed "crucial" evidence indicating tax violations by the broadcaster, after questioning "key personnel" and collecting "digital evidences and documents" from BBC offices in New Delhi and Mumbai.
"During the course of the survey, the Department gathered several evidences… which indicate that tax has not been paid on certain remittances which have not been disclosed as income in India," the ministry said, adding that the income and profits reported by the BBC are not "commensurate with the scale of operations in India."
Though the BBC was not identified by name, described only as a "prominent international media company," the Press Trust of India later cited unnamed officials who said the statement did, in fact, refer to the outlet.
Moreover, the BBC itself has acknowledged the allegations, saying multiple employees had "faced lengthy questioning" this week – some interrogated overnight – and that it was "fully cooperating" with the probe.
The state-funded broadcaster described this week's office searches as "raids," and has suggested they could be connected to a documentary it released several weeks ago in the UK which was critical of India's prime minister, accusing him of playing a vital role in the anti-Muslim riots that broke out in Gujarat in 2002 – when several months of inter-communal violence led to the deaths of over 1,000 people, two-thirds of whom were Muslim.
The ruling Bharatiya Janata Party (BJP) has rejected that charge, however, arguing that the tax department is "within the law in looking into tax compliance," and that Indian institutions operate independently from the prime minister's office. Party spokesman Gaurav Bhatia stated that the government takes an even-handed approach to every organization so long as they "don't spew venom," though did go on to call the BBC the "most corrupt organization in the world."
You can share this story on social media: