Yuan outperforms euro, becomes 2nd most popular trade finance currency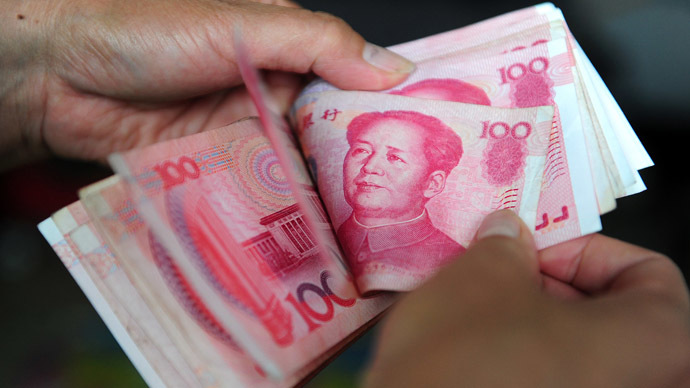 The yuan has replaced the euro to become the second most widely used currency in global trade in 2013, according to the SWIFT network responsible for international financial transactions.
The share of the yuan in global trade finance has jumped from 1.89 percent in January 2012 to 8.66 percent in the form of letters of credit and collections in October 2013, the Society for Worldwide Interbank Financial Telecommunication (SWIFT) data shows.
The share of trade settlements in the euro fell from 7.87 percent to 6.64 percent in the same period. The US dollar still leads with 81.08 percent of foreign trade payments using the American currency in October.
The most active yuan users are Chinese and Hong Kong companies which account for about 80 percent of the total foreign trade operations in the yuan. The remaining 20 percent is spread among Singapore (12%), Germany (2%), Australia (2%) and other countries (4%).
"The renminbi is clearly a top currency for trade finance globally and even more so in Asia," Franck de Praetere, SWIFT's Singapore-based head of payments and trade markets for Asia Pacific, commented in a statement.
"I think it is more to do with using China as a carry trade – people want to get their money into China," says Nick Verdi, Asia FX strategist at Barclays. "With global interest rates so low, China really is the only place where you can get such a large carry. Trade finance is one of the key avenues to take advantage of that."
According to SWIFT, in October the yuan remained the world's 12th most popular means of payment, its share decreased to 0.84 per cent from 0.86 per cent in September. Even though value of payments grew by 1.5% for the month, payments in all currencies rose by 4.6%
Hong Kong, the largest yuan hub outside China, has accumulated a record 782 billion yuan ($128 billion) in October. The same month the UK's Chancellor George Osborne announced plans to make London an offshore banking center for the yuan.
Ruslan Aymalov, Business RT
You can share this story on social media: