US has 'no right to fund gangsters': Yanukovich to challenge $1bn Ukraine aid in courts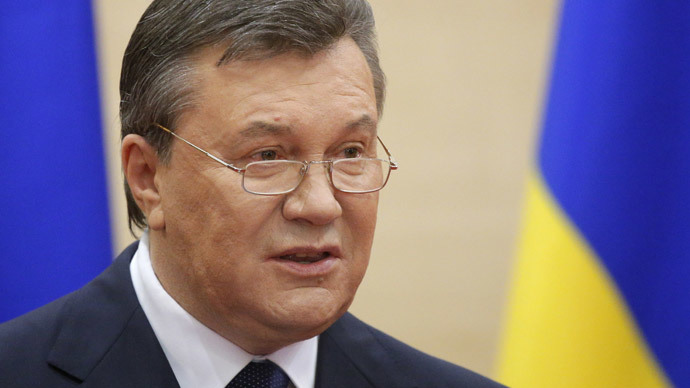 Ousted Ukrainian President Viktor Yanukovich says $1bn in aid to Ukraine promised by Secretary of State John Kerry is unlawful, and he will petition the US Congress and Supreme Court for a legal judgement.
Yanukovich said providing financial aid to the coup-appointed government in Kiev violates US laws, specifically Article No 8422, a Foreign Assistance Act introduced in 1961 that prohibits giving aid to "the government of any country whose duly elected head of government is deposed by military coup or decree".
"As far as I'm concerned, under US law it's illegal to provide financial assistance to the government of any state that has been overthrown by a military coup or other illegal circumstances," Yanukovich said.
On March 6, the House passed legislation on Ukraine aid plan that would offer about $1 billion in loan guarantees to Ukraine's new leaders, following Secretary of State John Kerry's pledge for aid.
Yanukovich still considers himself to be the legitimate president of Ukraine, even though he was ousted by his own Party of Regions. On February 22, the Ukrainian Parliament, the Rada, voted to impeach Yanukovich and changed the constitution, which could indicate a coup occurred. Oleksandr Turchynov was elected as interim president until elections are held on May 25. Yanukovich considers the May elections to both be unconstitutional and illegitimate.
"I plan on appealing to the Congress, Senate, and US Supreme Court with an urgent proposal to provide a legal assessment of the actions of the country. You have no right in your own laws to allocate funds to gangsters," Yanukovich told a small group of reporters in Rostov-on-Don, in his second news conference since he left Kiev for Russia.
The most common ways for cases to reach the US Supreme Court is through a circuit or state court, which decide whether the case deserves to be heard at the highest level. If the case it rejected by lower courts, the plaintiff can issue an appeal, called a 'certiorari', and ask the Supreme Court to directly hear the case. The Supreme Court can also reject this measure.
On March 5, the European Commission proposed an 11 billion euro helping hand to cash-strapped Ukraine, which it estimates needs 3-4 billion euro to last through the May elections
You can share this story on social media: