Russia overcomes final WTO hurdle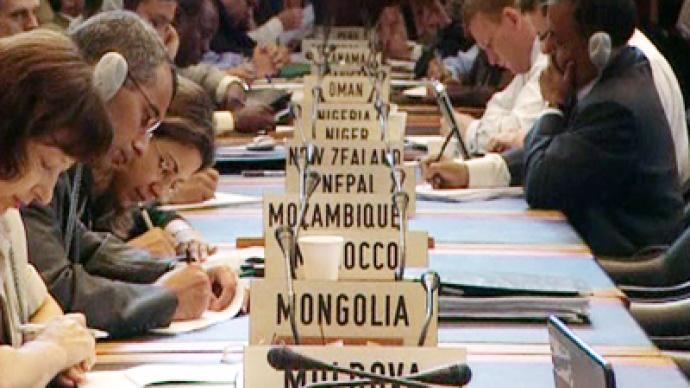 Russia and Georgia have signed landmark agreement, giving the green light to Russia's WTO accession.
The two sides have agreed new border controls for Abkhazia and South Ossetia, which was the last stumbling block. The document signed in Geneva allows border trade to be electronically monitored, with an independent auditor also keeping an eye on things."These corridors have been determined by geographical  coordinates, and the  document will not say anything about a  border  and  will  not contain  terminology  charged politically," Georgian media reported Sergei Kapanadze, Georgian Deputy Foreign Minister, as saying. The move clears the way for Russia to end its 18 year battle to join the WTO. Russia intends to  complete all the formalities within the next couple of days. Next month the 153 members of the WTO should give their approval, with the final accesion expected to be completed by the end of the year.Russia's WTO membership has a trial of patience and stamina, with heated, often explosive, debate. The flipsideThe question now is whether it would help Russia to diversify its economy and make it more competitive. A big part of the issue is Russia's economic dependence on commodity exports, with more than 80% of state revenues now coming from the sale of raw materials.Tuesday's report from Fitch says WTO accession will be positive for Russia's economy "reducing its exposure to commodityprice shocks – by ensuring better access toworld markets fornon-commodity exports."Meanwhile, Ilya Rachenkov, Investcafe analyst, is more skeptical, referring to Russian experts, who believe the move will just strengthen Russia's economic role of a commodities exporter.This brings us on to Russia's investment attractiveness – as well as the effects on domestic producers. However, despite arguing about the short term, almost all experts agree in the longer term the economic result for Russia will be positive.The World Bank calculated that over time Russia's WTO accession should add between 1% and 3% to its GDP growth rate. And Natalia Orlova, chief economist at Alfa-Bank talks about the benefits of easier access "to global technologies and high-tech equipment, which at the moment are subject to relatively high import duties."Vladimir Chizhov, Russian Ambassador to the European Union also believes that not everybody will be immediately happy about the move, with domestic producers facing tough competition from global producers."Naturally, accession to the WTO will lead to increased competition, including in the Russian market. And for Russian export manufacturers – in markets elsewhere in the world," the diplomat said."Unfortunately, so far a significant part of our products, especially in the processing industry, struggle to compete on foreign markets," Chizhov added.However, Russian consumers are likely to benefit with a larger choice of quality goods at reasonable prices.
You can share this story on social media: