Whisky vs Vodka: Scottish drink grabs bigger portion of Russian market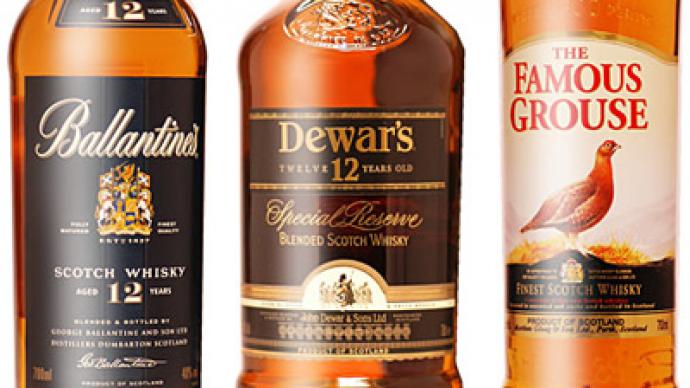 Russians are known for their love of vodka, but it's Scottish whisky that's raising more and more spirits in the country. Imports are expected to grow as the country enters WTO and companies are rushing to sign deals with producers.
Billionaire Roustam Tariko's ZAO Rust Ink., a company in the Russian Standard group, has signed a five-year contract with a British distiller to sell King Robert II and Hedges & Butler Royal De Luxe whisky.According to the International Logistic Systems (ILS), one of the biggest importers of spirits into Russia the volume of imported whisky has increased from 17 million litres in 2010 to 29 million litres in the same period of 2011.Vyacheslav Odegov, Head of analysts at ILS Russia says the Russian market of strong spirits has always been attractive for foreign producers "It is not only whisky which becomes popular among the Russian public but also rum, cognac and brandy. The biggest part of spirits comes from Great Britain, Ireland and the USA." He goes to say that "consumer habits have changed driven by intensive marketing and promotion,affordable prices and fashion.On the whole the import of strong spirits has grown by 11% by the end of 2011."Another huge Russian producer of strong spirits, mainly cognac, Aliance-1892 have signed a contract in February 2011 with a Scottish whisky producer to bottle whisky in the city of Kaliningrad. According to the Deputy Head of Aliance -1892 Ilya Sigidin, the retail price for a 0,7 litres bottle of blended Scotch whisky will be less than 500 roubles.Scottish producers are excited to come to the Russian market. Martin Bell, Deputy Director of International Affairs at the The Scotch Whisky Association says: "It is one of the largest spirits markets in the world but is dominated by domestically-produced vodka. Accession to the WTO should improve conditions for Scotch whisky producers looking to enter the market for the first time, or expand their presence there".Last year, whisky exports earned Scotland Ј3billion, more than 20 per cent up on 2010.
You can share this story on social media: