Vodka, cigarettes may get tax hike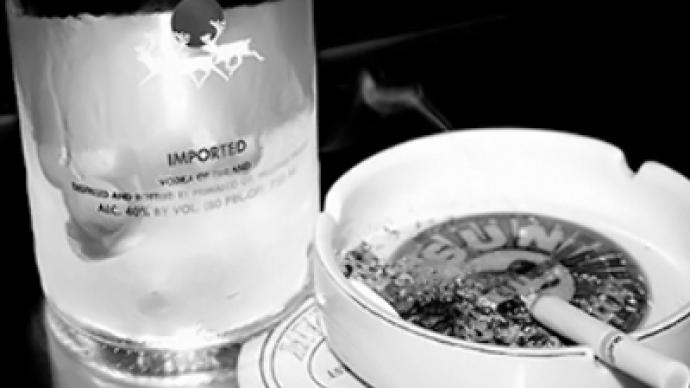 The Russian Finance Ministry is proposing new taxes on cigarettes and vodka with some analysts fearing that it could lead to a significant increase in counterfeit goods.
Deputy Finance Minister, Sergei Shatalov, said the minimum price for a half liter of bottled vodka could reach 200 Roubles by 2013
"We propose that we should reach minimum vodka prices of 120, 160 and 200 Roubles over three years, in 2011, 2012 and 2013."
He said the law which is being considered by the Ministry could provide for an increase in the excise tax on cigarettes as well.
"Around a 30% increase in prices annually for cigarettes over the next three years."
Dmitry Dubrov, chairman for the Union of Alcohol Manufacturers, believes the new taxes should not be levied until counterfeit goods are completely eradicated from the market.
"Many drinkers will switch back to cheap, illegal vodka."
Anatoly Vereshchagin, communications director at Japan Tobacco International, voiced the same concerns to Vedomosti over the possibility of the market being flooded with illegal cigarettes.
"Today the excise duty is collected 100% thanks to a balanced fiscal policy. We need to avoid excessive inflections which can lower the collection of the duty and inflict a substantial blow on legal products and consumers."

Alexander Korovka, PR director for Rospirtprom, also echoed calls for more time to be taken before making decisions on excise duty increase.
"Illegal production has been falling and is not approaching 30% of the market, but the excise tax could bring legal production down to at least a third." He added, "Higher taxes have never boosted tax collection – the opposite is true."
However, Gennady Onishchenko, head of the consumer rights watchdog, Rospotrebnadzor, said the essence of the problem lies in the cheapness of vodka.
"All this oratory that people will start drinking moonshine if vodka goes up in prices is just rubbish. Those who want to drink moonshine will drink it anyway." Adding, "Even a 10% price rise will radically cut the number of people who start drinking it when they are young. Affordability is one of the key issues."
You can share this story on social media: